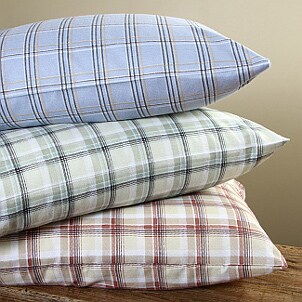 Flannel is the go-to fabric for cold weather bedding and a staple in any winter wardrobe, but it also evokes a feeling of traditional craftsmanship and practical fashion. The classic Welsh fabric has been around since the 17th century and has evolved into a textile staple. Today flannel is used to make everything from trendy flannel shirts to cozy flannel bedding. Take a look at this guide to explore the comprehensive history of flannel.
Flannel Through the Years:

Flannel has been around since the 1600s. The beginning of flannel, made of fine wool, can be traced back to 17th century Wales. Flannel was mainly used in the production of flannel clothing and helped protect Welsh farmers from the harsh elements. The word "flannel" also made its debut in German vocabulary in the early 1700s as the fabric's popularity spread.

Flannel became a specialized product in the 1800s. Early on, flannel was made in only a select few towns that had the tools and knowledge to create the heavy wool fabric. As its popularity spread so did the use of carding mills. Carding mills prepares the wool for spinning and soon became the first aspect in the production of woolen cloth to be mechanized.

Flannel got a makeover in the 20th century. Originally made from fine, heavy wool, flannel was adapted to warmer climates with the addition of silk and cotton. Today cotton flannel is utilized for lightweight flannel sheets and breezy flannel shirts that are best suited for fall weather.

Plaid flannel became a symbol of lumberjacks when it came to North America. Plaid and flannel merged in the 1900s and became synonymous with the working class. For blue collar workers who braved freezing temperatures to labor outside, flannel clothing was ideal because it kept them warm while allowing a free range of motion.

Flannel continues to be both functional and trendy. Plaid flannel made a reappearance in the 1990s when it was popularized by grunge bands in the Pacific Northwest. Although flannel clothing may be staging a fashion comeback, flannel bedding never ceased to be a staple for those living in cold climates. Often used as backing for quilts, flannel traps heat and remains one of the best options available for warm bedding.

Buy Flannel Bedding
Back to Guides Directory