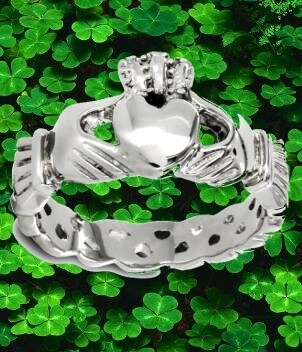 You don't have to be Irish to know that Celtic rings and other Irish jewelry are the perfect way to feel connected to a distant land, a fabled past, and a passionate people. Claddagh rings have a lot of meaning and symbolism. This history of the famous Irish jewelry just may inspire you to give one to the person you love.
Claddagh Rings History:

Love, friendship, and loyalty: The Claddagh ring is a specific design: two hands holding a heart with a crown. This symbol stands for love, friendship, and loyalty. Pieces of this design were first brought together in the 17th century. Claddagh rings were traditionally passed through generations as wedding rings and heirlooms. It's considered bad luck to buy one for yourself; it must be given as a gift.

The legends: The Claddagh ring is named after its birthplace, Claddagh, a former fishing village on the west coast of Ireland. Various stories tell the story of the creation of the ring's design. One romantic legend tells of a man named Richard Joyce, who was supposed to be married to his true love. According to the story, he was kidnapped by pirates and sold into slavery, where he worked for a goldsmith and learned to design jewelry. He created a ring with the Claddagh design, and when he eventually managed to escape slavery, he brought the ring back with him. His beloved had never married during his long absence, so he gave her the ring he'd made while in slavery, and they were married immediately.

Modern Claddagh: Claddagh rings are still common in Irish culture. In addition, the Irish have shared the design with the world, and many people of various backgrounds wear Claddagh rings today. They make a lovely engagement ring or wedding ring, and they can also be given as a gift of friendship. A Claddagh ring makes a sweet, non-traditional promise ring, too.

Styles available: Claddagh rings are available in many different styles and varieties. Traditional Claddagh rings can be found in gold, silver, and other precious metals. Some combine a few different metals, or incorporate gemstones. For ideas on styles to try, read our guide on new trends in Claddagh rings. You can also find the heart, hands, and crown design on necklaces and earrings.

Wearing the rings with meaning: Traditionally, Claddagh rings are used to convey meaning and intent. Wearing one on your right hand with the heart facing away from you shows that you are looking for love, while wearing it with the heart facing toward you indicates that you are in a relationship. Wearing a Claddagh ring on your left hand with the heart facing away from you shows that you are engaged, while wearing it with the heart facing toward you indicates that you are married.
What Do You Want to Do Next?

Shop for Claddagh Rings
Shop for Men's Claddagh Rings
See All Rings
See All Guides
Read More Jewelry Guides
Learn More about Rings