High Chair Buying Guide
by Staff Writer
The right high chair can help mealtimes run a little smoother. Feeding your baby will always be messy, but with the right high chairs and booster seats, you can keep your baby safe, comfortable and content and make cleaning up easy on yourself. This high chair buying guide will help you figure out how to buy the high chair that will best meet your needs and make dinnertime easy and fun for you and your baby.
Buying a high chair: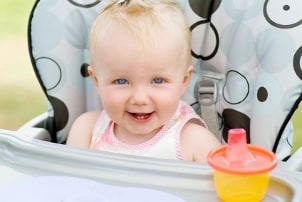 Shop High Chairs ▸
Safety:

When choosing which high chair to buy, it's important to take the safety features into consideration first. A good safety belt and crotch post are essential to every safe high chair. A five-point harness is preferable to a three-point harness or just a lap belt. A crotch post will keep your baby from sliding under the tray and out of the seat. Make sure the leg holes on either side of the post are small enough that your baby cannot fit both legs through one side of the post.

Wheels:

If the high chair you choose has wheels, make sure all four wheels have a locking mechanism. This will make the chair safer for your baby and easier for you to use. It's much more difficult to get a wiggling baby into a moving chair than a steady one, and it'll be safer for him, too.

Folding high chairs:

Many parents prefer folding high chairs because they're easy to store away between mealtimes. If you choose a folding high chair, make sure it is sturdy and has locking mechanisms at the joints to keep it from folding while your baby is in it.

Tray toys:

High chairs with tray toys are a convenient way to keep your baby content at mealtimes. You can also buy tray toy attachments to add to your high chair if it doesn't already come with one. It is important, however, to make sure the toys are securely attached and don't have loose parts or strings that could be swallowed and choked on.

Adjustable seats:

Some high chairs have seats you can adjust for height and/or recline for bottle feeding. Adjusting the height of your high chair is nice for seating your baby at table level for family dinners or at the kitchen counter for breakfast or lunch. Adjustable seats also make it easy for your high chair to grow with your baby. A reclining seat can be a convenient place for your baby to fall asleep after bottle feeding. Keep in mind, however, that you should never feed your child solid food in a reclining seat as it is a choking hazard.

Sharp edges and small parts:

It's a good idea to run your hands over the high chair's seat, tray and legs to make sure there are no sharp edges and nothing rough that could scratch, scrape or pinch your baby's skin. Also, pay attention to any unsecured small parts that could be pulled off and swallowed to avoid choking hazards.