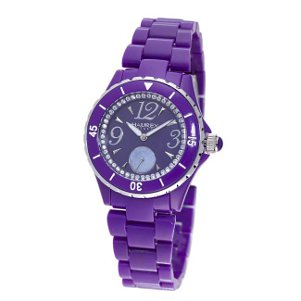 Haurex watches are stylish yet moderately priced timepieces that are perfect for anyone who wants to enhance their appearance with trendy, contemporary fashion accessories. If you wear watches, you'll probably want to have several in your collection. Luckily, Haurex Italia offers many designs that you can wear any day of the week.
More about Haurex Watches:

Haurex is a new brand. Founded in 1989, Haurex Italia is a relatively new participant in the watchmaking world, where many companies have existed for decades, some over a century. The founders, Maurizio Bianchini, Giuseppe La Guisa, and Stefano Turrini, located their company in Bologna, Italy, and concentrated on offering modern timepieces that showcase the legacy of Italian fashion. Today, Haurex Italia watches are sold in over 40 countries.

Haurex specializes in Italian styling. These watches quickly became popular in Europe during the 1990s as the company often anticipated the best trends -- just as Italian designers do with apparel. A Haurex watch appeals to young, urban adults who have an eye for fashion and are discriminating consumers of design and luxury. The lines are clean and modern; even watches with lots of sparkle are elegant and chic as they catch the eye.

Haurex watches are fashion-forward accessories. Consider the minimalist look of the Leaf Collection, which features a simple dial with stick markers and a leather or mesh bracelet in a soft, neutral color. Find a brighter look in the Make Up Collection, a popular choice among the women's watches, with colors as vibrant as any eye shadow, enhanced with silver and crystal accents; it is a beautiful look combined with practical timekeeping functions. The company incorporates the latest on-trend materials into the designs; look for aluminum, rubber, new plastics, and ceramic, all in the rich, varied colors that people love in Haurex Italia timepieces.

Haurex watches are also precision timepieces. You'll find the advanced functions required of contemporary timepieces in both the women's and men's watches. Whether you want a stainless steel diving watch or a chronograph watch with a leather strap for a more refined look, Haurex Italia has a product for you that combines quality with fashion.

Buy Haurex Watches
Back to Guides Directory