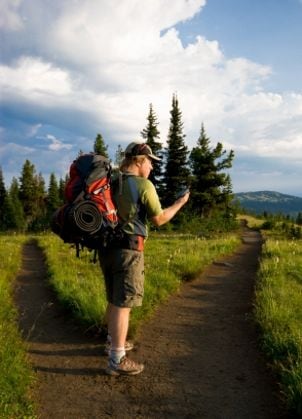 Do you travel frequently or spend a lot of time exploring the outdoors? A handheld GPS can you help you find your destination quickly and safely. The global positioning system, or GPS, pinpoints locations on the land and sea using a network of 24 orbiting satellites operated by the United States Department of Defense. Under ideal conditions, a GPS can achieve position accuracy of better than three meters, which is perfect for both travel on foot and by car. Don't get lost or disoriented again; use our GPS system buying guide to find the navigation system that works best for your lifestyle.
GPS Functions:

Giving a location: This is the whole point of a navigation system: its ability to accurately triangulate your position based on the data transmissions from multiple satellites. It will give your location in coordinates, either latitude and longitude or Universal Transverse Mercators (UTMs). Developed by the military, UTMs are used to pinpoint a location on a map. Most topographical maps have UTM gridlines printed on them.

Point-to-point navigation: This GPS navigation feature allows you to add waypoints to your trips. By using a map, the coordinates of a trailhead or road or the point where you're standing, you can create a point-to-point route to the place where you're headed. You will have the trip mapped out, including any stops you add in.

Plot navigation: This feature in a global positioning system allows you to combine multiple waypoints and move point-to-point. Once you reach the first waypoint, the GPS can automatically point you on your way to the next one. The waypoint management software comes with most handheld GPS units for easy database management.

Keeping track of your track: Tracks are some of the most useful functions of portable navigation systems. You can map where you've already been. This virtual map is called a track, and you can program the GPS system to automatically drop track-points as you travel, either over intervals of time or distance. This can be done on land or in a nautical setting and allows you to retrace your steps.
Basic GPS Components:

Screen: There are different screens available, each with its own menu. Color screens can be good in maritime environments where you need the individual "lumps" to be distinguishable between land mass and water depth. Grayscale screens are just fine for other outdoor needs. Large screens are good for navigation in a vehicle, but while a large screen is easier to see, it could become a distraction to drivers. Illumination is another option. The best GPS can be read in a variety of light conditions and can light up for night time or low-light conditions.

Antenna configuration: The different types of antennas have their pros and cons. Quad helix antennas are the most common in newer models and are considered best for use under tree cover. Flat-patch antennas are an inexpensive alternative to the quad helix antenna if you usually hike or travel in open country. Note that with a high-sensitivity processor chip, the performance of your handheld GPS will be enhanced dramatically, regardless of the type of antenna you have. Built-in antennas are less likely to break off or get damaged. External antennas are less protected, but they can be repositioned and manipulated to obtain a better signal. The optional plug-in antenna is great when you want to use your GPS in a car or boat, and it will allow you to pick up signals even if you are under a metal roof.

Internal maps: The amount of preloaded map information a GPS contains can really affect the price. Maps often include a base map of North America, backcountry details of major rivers and street-level road maps. A limited number of international maps are also available.

Barometric altimeter: All GPS units can give elevation information, but not all of them come with a barometric altimeter. The barometric altimeter operates independently of the satellite signal, so even if you're hiking in a low-signal area and you lose the signal, you can still get an accurate elevation reading. The barometric altimeter runs on air pressure, so it can also give you an idea of approaching weather conditions and changes by showing a graphic chart of barometric trends. With the best handheld GPS that includes an altimeter and a little advanced warning, you can whip out a parka or pitch your tent.
Other GPS Features:

Usability: Does the GPS give you a simulation mode where you can familiarize yourself with all of its functions, regardless of a signal? You'll want to be familiar with your GPS before you head out and explore.

Power supply: What kind of batteries does the GPS use? You'll want to know if the GPS will work with more than one type of battery and how many extra batteries you'll want to pack, just in case. Most modern GPS navigation systems have a built-in back-up battery that will keep your stored information safe even if the internal battery runs out.

Speed: How fast will the GPS system acquire the signal? Is it a constant speed? Some navigation systems process data and update much more quickly than others. Usually, the more channels a GPS system has, the faster it will compute and refresh the on-screen information. Look for "time to first fix," or TIFF, data when researching different models to find the best GPS for speed.

Size: The smallest portable navigation systems available today are no bigger than a cell phone and can fit in the palm of your hand, but they also have a higher price tag. The smaller GPS systems will have double-purpose buttons. The larger GPS systems have clearly labeled buttons, which makes using them and reading their labeled functions a lot easier.

Design: Look for a durable design. Can buttons stick easily? Will the casings crack if the unit is dropped? The best handheld GPS models include waterproof ratings and may even float.

Buy Handheld GPS
Back to Guides Directory