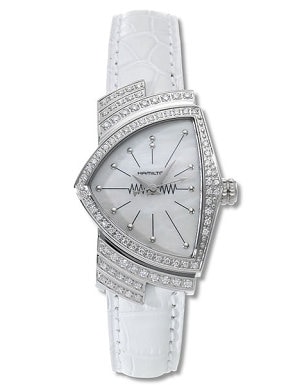 If you've never heard of Hamilton watches, then now is the time to get in the loop. Hamilton watches have been around since 1892, and Hamilton watches are winning new admirers every day with a rich history and a collection of attractive timepieces. Shopping for men's watches and women's watches can be a bit tricky considering the vast array of watch choices. Looking at history is a great way to narrow down your favorite brands. Check out our Hamilton watch quick facts to decide if women's watches and men's watches from Hamilton are right for your collection.
All about Hamilton Watches:

Beginnings: The Hamilton watch company was founded in Lancaster PA in 1892. The company was acquired when Keystone Watches went bankrupt and was sold by the sheriff. Hamilton focused on accuracy, and their Broadway Limited watch was precise enough to be the watch of railroad accuracy.

Growth: In 1928, the company began to focus more on style with its Yankee watch. Hamilton focuses on both style and function equally when crafting modern timepieces.

Innovation: In 1970, Hamilton introduced the world's first digital watch. The sleek timepiece had a polished stainless steel case and a glowing red read-out.

Pop culture: Hamilton has been a part of popular culture since 1961, when Elvis Presley wore the Hamilton Ventura watch in the movie "Blue Hawaii." The Ventura Watch is decidedly futuristic with a sideways triangular dial, and modern Ventura watches are still available from Hamilton today. Hamilton watches have appeared in the movies "Frogmen" and "Men in Black." In the television show "Heroes," the villainous character Sylar wore a modified Hamilton timepiece that read "Sylar" in place of "Hamilton."

Vintage revival: In the 1980s, Hamilton recognized the popularity of vintage designs and reintroduced some of its classic watches. Some of these timepieces are still produced today.

Swiss and American synergy: Hamilton acquired the Buren Watch Company in Switzerland in 1966. Hamilton still offers several Swiss watches, which combine American design with Swiss precision and watchmaking history.

A trendy company: Hamilton is owned by the very famous Swatch Group. Swatch watches are considered incredibly hip, and this reputation has inspired Hamilton to keep up with current watch trends.

Buy Hamilton Watches
Back to Guides Directory