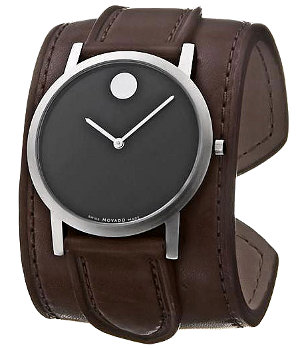 A lovely Movado watch is a nice luxury piece to have on hand. You may choose to wear your Movado watch every day or save it for special occasions. Either way, you can be certain that your Movado watch will last a lifetime and be fashionable for even longer. When shopping for men's watches and ladies watches, style will be one of your main considerations. Movado has always been known for creating fashionable and innovative watches. Use our tips to select the right Movado watch styles for your collection.
Stylish Movado Watches:

Classic styles: Movado is known for men's watches and ladies watches with minimalistic style. These classic Movado watches are known by a few different names, but they all embrace simple luxury design. The Movado Museum watch is incredibly famous and features a simple watch face with only a marker in the 12 o' clock position. This marker is often a gold dot or a diamond. The Juro, Valor, Meza, Luno and many other Movado models also feature minimalistic design.

Traditional: Many watches from Movado feature a traditional aesthetic. The Gentry from Movado is a departure from the company's minimalistic design. The Movado Gentry features more traditional styling than the Museum models, with classic numbers and markers at each number position and leather or stainless steel watchbands. Many Movado collectors choose the Gentry as their second Movado piece. Chronograph sport watches from Movado also feature traditional styling.

Artistic: Movado is also known for structured dials and watchbands that offer very creative fashion. The Movado women's Timema watch is styled like a bracelet with a tapered dial that is shaped right into the watchband; the clasp is located on the front of the watch, directly under the face. The Timema also has the classic minimalistic Movado dial with the single dot in the 12 o' clock position. The Ono watch is another very cool bracelet watch, with a band made of stainless steel circles that match the watch's dial. Each circle on the watchband is embellished with a single diamond. The diamonds are staggered to give the watch a modern design. These Movado watches are incredibly artistic and collectible.

Buy Movado Watches
Back to Guides Directory