GPS Buying Guide
by Staff Writer
The best way to navigate your world, whether on the road or hiking the trail, is with a GPS navigation system. With a portable GPS, you can always know how to get where you're going. And with new features, like Internet connectivity and live traffic updates, you can get even more information through your GPS. This GPS buying guide will bring you up to speed on the latest features for car GPS and handheld GPS systems.
Buying a GPS: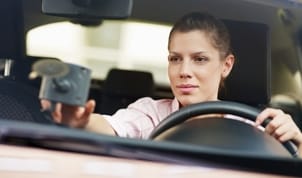 Shop GPS Navigation ▸
Car GPS:

Having a GPS navigation system in your vehicle makes sense because that's the most common way for you to get around. Car GPS units include street maps of your area, usually providing you with a visual map and turn-by-turn, spoken directions. Another useful feature for car GPS systems is a hands-free Bluetooth connection to your cell phone, so you can make calls without taking your hands off the wheel.

Mobile GPS:

All phones made since 2005 are GPS-equipped. Cell phones that include hand-held GPS receivers are also available but may not operate properly if you are outside your cell provider service area. This is because many mobile GPS systems rely on cell phone towers instead of satellites.

Hand-held GPS:

Recreational GPS units include wristband, armband and hand-held versions. The wristwatch-size portable GPS units are especially good for hikers and bikers. Larger portable GPS units are designed to be carried in your pocket or backpack. These GPS units can also be mounted to your dashboard and act as a car GPS.

Marine GPS:

These navigation systems are meant for use by boaters. Marine GPS systems are, of course, waterproof, and they float. Shoreline maps and features like tide tables and fish-finders can be very useful. Marine GPS tracking is especially valuable when entering or exiting crowded harbors.

GPS maps:

Your GPS navigation unit will most likely come with some pre-loaded maps of your country or region. You can download additional maps from the manufacturer, as well as other useful programs to help you navigate roadways and trails. Before you head off on your next road trip, check to see if your GPS maps of the area are detailed enough.

Data storage:

GPS users can store even more if the device supports removable memory cards, similar to those commonly used for digital cameras. If you need additional storage for GPS maps and other extras, install a larger memory card.

GPS antennas:

An antenna can amplify GPS signals, which can be especially useful in urban areas where you may experience interference from large structures.

GPS care:

If you own a car GPS system, detach it and store it inside or in your glove box when you're not using it. Even on cool days, the dashboard can get dangerously hot for a GPS system, and excessive exposure to the sun's radiation can damage electrical components.
Tips from Overstock™
You can secure your GPS unit to your dashboard, windshield or center console with a simple mount. A carrying case can help protect your GPS, keeping all cables and accessories together. You can find many useful GPS accessories, like GPS mounts, adapter cables and screen protectors, for great deals here at Overstock.com.