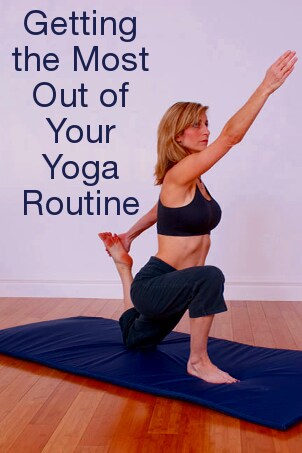 When you practice yoga, you learn how to relax and breathe deeply while you improve your core strength and overall flexibility. While learning from an instructor is ideal, many beginners like to start in the privacy of their homes, and many people find that doing yoga at home is much more affordable. If you're planning to start practicing yoga, make sure to read these tips first, so you can prevent injuries while maximizing the positive results of yoga.
Optimize Your Yoga Practice:

Find your guide: If you go to a class, the yoga instructor will guide you through the poses and walk around to correct the students' postures. If you want to practice yoga at home, however, it's a good idea to start with a yoga DVD or a book about yoga. Even if you've seen people do yoga or you've tried it a few times, the guidance you'll get from a DVD or book will help you with reminders about positioning yourself, and it will keep you moving, helping you to be thorough in your routine.

Dress comfortably: Wear breathable, stretchy clothing that will allow you to bend and stretch comfortably. Many people prefer to go barefoot while doing yoga, but you can also buy special non-slip socks to wear for yoga.

Get the right gear: A grippy yoga mat is the best way to stay sure-footed while going through your poses; it's the one piece of yoga gear you'll use whether you're a beginner or you're more advanced. Beginners may also want a set of foam yoga blocks, which are used to help with stabilization and for stretching; it's much easier for a beginner to reach a block set on the floor than to reach the floor itself.

Take your time: Even if you don't have an hour to devote to yoga, you'll still want to take your time. If you feel stressed or hurried during your yoga workout, you won't be able to relax. More importantly, you risk injuring yourself instead of doing good for your body. When beginning to learn the poses, it's important to be aware of your movements, and to make adjustments to your posture, and this will be difficult if you rush through it.

Be aware of your breath: One of the most important parts of a yoga routine is learning to breathe properly, a technique called Pranayama. In fact, there are a few yoga breathing exercises that are designed to improve your lung capacity and reduce anxiety. Try lying flat on your yoga mat and using your abdomen to inhale fully and exhale slowly, completely releasing all air. Your DVD or book will probably guide you through more breathing techniques.

Don't push your body: While yoga positions are designed to stretch the muscles in your body and strengthen them, you should only do yoga postures that don't hurt. You'll need to work up to advanced poses, but even beginning poses can be painful if done incorrectly. If certain yoga postures are painful or feel strange when you try to do them, stop and adjust.
What Do You Want to Do Next?

Shop Yoga DVDs
Shop Yoga Gear
Shop Women's Yoga Clothing
See All Guides
Read More Sports and Fitness Guides
Learn More about Exercise