Gemstone Jewelry Buying Guide
by Shawna Edwards
Gemstone jewelry both accessorizes our fashion choices and lets us show off a little. Although the accessories can be casual, like a birthstone ring worn every day, or extravagant, like a ruby and diamond necklace saved for special occasions, sterling silver and gold are still the preferred metals for gemstone jewelry, making each piece a small luxury.
Common Gemstone Jewelry Terms: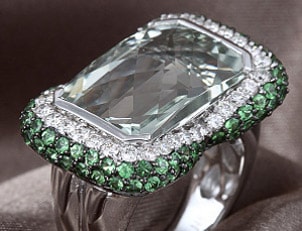 Shop Gemstone Jewelry ▸
Anniversary gemstones:

Just as months have birthstones associated with them, wedding anniversary milestones have associated gems. Spouses give each other these jewels to mark the date. Notable anniversary stones include sapphires for five years, diamonds for 10 years, rubies for 15 years and emeralds for 20 years. Read our anniversary gemstones guide to see the complete list.

Briolette:

A briolette is a pear-cut gemstone that features triangular facets. Sometimes referred to as teardrops, briolettes decorate earrings and necklaces. Pastel gems, such as rose quartz, peridot and blue lace agate, are popular choices for briolettes.

Cabochon:

This gem cut has a smooth, polished surface and a domed shape.

Cat's eye:

Some cabochon gemstones reflect light in a way that suggests the gleam of a feline's eye. The stone is usually a chalcedony or chrysoberyl; however, many faux gemstones and glass beads also have this feature.

Cocktail ring:

Similar to a cluster ring, the cocktail ring features a large pattern of gemstones. It is sometimes called a dinner ring. Vintage cocktail rings are popular collectibles.

Created:

Any gem that is labeled as created or synthetic was manufactured in a laboratory, but has the same chemical properties as its natural counterpart.

Faux:

The faux, imitation and simulated gems are manufactured beads that resemble the natural stones, but do not have the same chemical properties. Faux gems are often made of plastic.

Trilliant cut:

Also known as trillian and trillion, this gem cut has a triangular shape and curved or straight sides. It is more often found in colored gemstones than in diamonds and is a popular shape for stud earrings.
Gemstone Color Groupings
Expand your gemstone collection with new gems in all the colors.

Scientists group minerals, including gemstones, by their composition; however, professional jewelers, enthusiastic hobbyists and consumers appreciate these stones mostly for their astonishing colors. If you want to add some new gems to your jewelry wardrobe, choose two or three color groups and look at the variety of stones within them.

Black:

This group includes jet, hematite, obsidian, onyx and schorl (a tourmaline).

Blue or violet:

This group includes amethyst, aquamarine, blue topaz, iolite, lapis lazuli, sapphire, sodalite, tanzanite and zircon.

Green:

This group includes apatite, bloodstone, chrome diopside, emerald, green amethyst, jadeite, malachite, peridot, serpentine, tashmarine and tsavorite garnet.

Red or pink:

This group includes coral, garnet, jasper, kunzite, morganite, pink sapphire, pink topaz, rhodolite, rose quartz, rubellite, ruby and spinel.

White or iridescent:

This group includes ivory, labradorite, milky quartz, moonstone, mother of pearl, opal, pearl and rock crystal.

Yellow, orange or brown:

This group includes amber, aventurine, carnelian, chrysoberyl, citrine, fire opal, heliodor, padparadscha, smoky quartz, tiger's eye and topaz.
Tips from Overstock™
Visit your jeweler at least once a year to have your fine jewelry professionally cleaned. The jeweler can also check the settings to make sure prongs haven't been bent or weakened. You'll find that clean stones sparkle and shine with new brilliance.