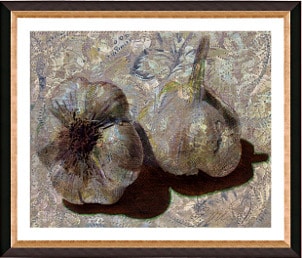 Stinking Rose -- perhaps this is not the most popular title for a poem; nonetheless, garlic has plenty of qualities to praise. This bulb was used by the ancient Egyptians as far back as 2080 B.C. for both culinary and medicinal purposes. It's still important in herbal medicine. Of course, garlic still makes good food even better, and every great cook has a garlic press among their kitchen tools. April 19 is National Garlic Day in the United States, but you can celebrate garlic anytime with some tasty recipes and fun facts.
Fun Facts about Garlic:

Garlic grows everywhere. There are about 300 varieties, wild and cultivated, growing in the world. China is the largest producer of garlic, at approximately 23 billion pounds annually. Major cultivation areas also exist in India, Spain, Argentina, the U.S., and Egypt.

California loves garlic. Gilroy, California, bills itself as the Garlic Capital of the World. The area is the major garlic growing region in the U.S., and the town hosts one of the country's great food festivals: the Gilroy Garlic Festival. The event has run every summer since 1978.

Chicago loves garlic, too. The name Chicago comes from the Miami-Illinois Indian word "shikaakwa," which refers to the wild garlic that grows around Lake Michigan. The early French settlers rendered the word "checagou," which evolved to Chicago.

It's not a rose. Garlic is considered both a vegetable and an herb. Its Latin name is allium sativum and it is a member of the onion family, along with chives, shallots, and leeks. Although it is often called the stinking rose due to its pungent odor, garlic is more closely related to lilies than to roses. The origin of the nickname remains a mystery.
Garlic Mashed Potatoes:

Ingredients for Garlic Mashed Potatoes:
4 large cooking potatoes
4 cloves of garlic, pressed
2 tablespoons heavy cream
1/4 cup milk
2 tablespoons salted butter
Salt and pepper (optional)
Peel and cube the potatoes.

Place the potatoes in a cooking pot and cover with water. Boil for 15 to 20 minutes on high until tender. Drain water.

Combine the potatoes, pressed garlic, cream, milk, and butter in a mixing bowl. Mash until well combined. Season the mashed potatoes to taste with salt and black pepper.
Garlic Burgers:

Ingredients for Garlic Burgers:
1 pound of ground beef
4 cloves garlic, pressed
4 green onions, chopped
1/2 teaspoon salt
1/4 teaspoon pepper
Combine the ground beef, garlic, green onions, salt, and pepper in a large bowl.

Press the mixture into patties the size of your palm. Grill the patties for 10 to 15 minutes or until done, flipping once.

Serve the garlic burgers on ciabatta buns and garnish with fresh romaine lettuce and tomatoes.

Buy Kitchen Tools
Back to Guides Directory