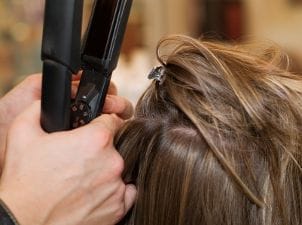 A flat iron is essential for men and women who desire tresses that are sleek and pin-straight or spiked and textured. Flat irons, also commonly called hair straighteners or hair irons, are wonderful hair-care tool investments. Flat irons are versatile and offer professional hairstyling results, making them an important beauty arsenal item. Choosing the right hair straightener requires a careful look at a hair iron's overall construction and consideration for functions and features. Your specific hair-care needs and hairstyling desires will also play into choosing a straightener.
All about Flat Irons:

Construction: Hair straighteners consist of two plates that are pressed together over a portion of hair to flatten the hair cuticle and straighten each hair strand. Straightening-iron plates can be made of metal, ceramic or tourmaline. Some hair irons have metal plates with a ceramic coating. Ceramic flat irons offer professional results because they hold and distribute heat well, as well as protect the hair with negatively charged ions. Tourmaline is a gemstone that works similarly to ceramic when used on flat-iron plates. If you have thick, naturally curly hair or you want a hair-care tool that offers professional results, consider ceramic flat irons.

Plate size: You will need to determine which flat-iron plate size is right for you. Most straightening irons are equipped with plate widths of 1 to 1.5 inches. These standard-sized flat-iron plates work well on most types and lengths of hair. If your hair is thick, long and coarse, you might consider a flat iron with larger plates. Individuals with short hair should consider mini flat irons which have smaller plates. Small flat irons are good hair-care tools for creating spikes and shaping bangs. Small flat irons are also handy for touch ups when away from home.

Heat features: Flat irons can deliver a range of heat. Hair straighteners typically heat up to temperatures between 100 and 400 degrees Fahrenheit. Many flat irons have fixed heat settings, but hair straighteners with varied heat settings are also available. Hair that is damp, chemically treated or fine can benefit from lower heat settings, while hair that is coarse, naturally curly or thick can benefit from higher heat settings. Most flat irons with fixed heat settings will automatically heat up to high temperatures. A flat iron with a digital temperature display is a great option for those concerned about heat damage.

Flat iron use: Getting optimum hairstyling results from your new flat iron will take some practice and a few tips. Ironing small, thin sections of hair at a time will improve the results and smooth out each strand of hair more thoroughly. Pinning or clipping your hair into sections is helpful, especially if you have long or thick hair. Straighten each section of hair in one fluid motion from the roots to the end, being careful not to touch the flat iron to your scalp, ears, face or neck. You made need to straighten stubborn strands more than once to get them perfectly straight.

Products: Even if you purchase the best flat iron available, it is still a good idea to protect your hair from high temperatures with products made specifically for flat ironing. Heat protection sprays, serums and creams are available, and these products can be easily applied before flat ironing to reduce heat damage. Many heat-protection products also offer frizz-reducing and style-setting results.

Buy Flat Irons
Back to Guides Directory