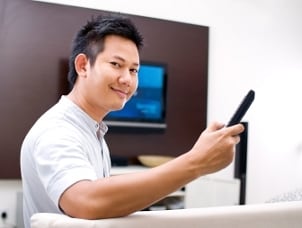 Your TV is only the most visible part of your home theater. That big screen television is supported by an array of peripheral audio and video devices to create that home cinema experience. Below are some tips for integrating your television into a home theater setup with the best audio and video quality.
Connecting Your Home Theater:

Blend your TV with the room. A stylish entertainment center can frame your television and lift it to eye-level. Alternatively, you can use a TV wall mount and attach your TV to the wall. You can then conceal cables inside the wall or with a cable management system.

Connect your TV with quality cables. A new HDTV will most likely have a variety of connection ports for multiple audio and video cable types. This not only allows you to connect multiple audio and video sources to your TV, but it allows you to have them all connected at once. Here are some common connection types you may use.

Common Connection Types

Coaxial: This analog connection has a wide bandwidth for carrying both audio and video. Your cable box or satellite receiver box may use this connection type.

S-video: These are either 4-pin or 7-pin connector cables, typically used to connect your TV to a computer or DVD player. You won't get high-definition TV with S-video, but it will work if you have no other connection.

Composite (Y/Pb/Pr): Composite video cables use three separate cables for the video signal and two more for the audio signal. These cables can carry a progressive scan, high-definition signal to your TV from video game consoles, Blu-ray players and other high-definition sources.

HDMI: HDMI is popular for HDTVs and high-definition video sources, and most HDTVs will have several HDMI ports. With HDMI, you can get a high-definition video signal, surround-sound audio signals and other signals, all bundled into one big cable. It can even handle two-way communication between your HDTV and other devices to unlock extra features.

Make your receiver the center of your home theater. The best way to build a home theater is with a receiver at the center, which then has a single video connection to the television and handles surround sound. The best connection to your TV from the receiver is probably HDMI, which can enable two-way communication that allows you to control certain receiver functions through your HDTV.

Buy Televisions
Back to Guides Directory