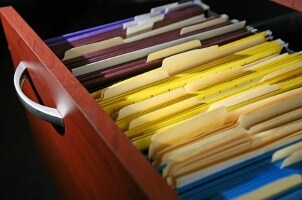 The right office furniture can make your workspace a pleasant and organized place to get things done. The best way to organize your office is to balance the space you have with the tools and storage you need in order to work. Filing cabinets are important office accessories for keeping documents and other materials on hand, but they should also blend with the rest of your office decor. So here are some tips for selecting filing cabinets that will fit your office and make it a more productive space.
Finding the Right Filing Cabinets for Your Office:

Determine how much space you have. Measure your office to determine the space you have to work with. If you are working in a limited area, make use of your vertical space with a tall filing cabinet that gives you more storage per square foot of floor space. If you have some room to spare, look for a lateral filing cabinet. If you can fit the cabinet in the office but can't open the file drawer, you may need something smaller.

Envision where your tools will be. Your computer, printer, fax and other office tools have to go somewhere. A low-profile file cabinet can give you some additional counter space for electronics, organizers and odds and ends.

Consider your overall style. Will a black steel storage cabinet fit in with your desk and other office furnishings? Maybe a warm cherry-wood filing cabinet will add some charm to your office. Style doesn't always have to take a back seat to usability, so make sure you choose a filing cabinet that you will be happy with.

Find the right type of storage. A regular filing cabinet can store a lot of files. But if you need to store office supplies and tools as well, a storage cabinet may be better. Other items that have a space now may be displaced later if you are changing other furnishings as well. So choose filing cabinets with those changes in mind.

Buy Filing Cabinets and Accessories
Back to Guides Directory