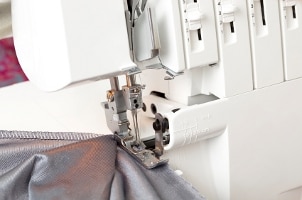 If you've ever dreamed of sewing your own clothing, you need an overlock sewing machine. Also called overlockers, these machines finish a seam or hem with various stitches that can connect piece fabrics like a book, create decorative edging and add strength to a garment while retaining flexibility. Choosing the best overlock sewing machine can be intimidating, though; all the major sewing machine manufacturers make overlockers, and they come with a huge variety of options. Keep reading to learn which features you should look for when shopping for overlock sewing machines.
Features of Overlock Sewing Machines:

Various stitches: Depending on the items you want to make with your sewing machine, you'll need to switch between different kinds of stitches; an overlock machine that can use multiple threads in its overlock stitch is very valuable and saves you the time and effort of changing machines. A one-thread stitch, for example, is used for end-to-end seaming, or butt seaming, which connects textile pieces in a manner similar to book binding. The two-thread stitch is the most common type of overlock stitch, used for everything from edging and seaming to hemming and sewing elastic and lace to delicate fabrics. A three-thread stitch is used for sewing pintucks, rolled hems and decorative edging. Use the four-thread overlock stitch for decorative edging and mock safety stitches. Try five-thread stitch, which uses two needles, to create a very strong seam for work clothing or high-stress areas. One overlock machine that can easily go back and forth between all these stitches and functions saves you lots of time.

Differential feed: Overlock sewing machines sometimes have an extra feature called differential feed; this feature allows you to change the feed of the thread through the loopers of the overlock. Differential feed is useful for creating intentional puckering and is necessary for some kinds of fabrics.

Easy loopers: Overlock sewing machines use loopers underneath the sewing bed instead of bobbins to feed multiple threads into the fabric. As the needle pokes through the fabric with the first thread, the loopers pass in front of and behind the needle with threads two and three, which creates the crochet-like stitch. Before you can begin a project, you'll have to thread the loopers, so make sure the serger you have your eye on as easy-to-thread loopers.

Built-in cutters: Although overlock sewing machines with built-in cutters are technically called sergers, they're essentially the same thing, and the cutters can reduce the time and effort you spend on a project drastically. Serger sewing machines use the built-in cutters to trim excess fabric from the seam or hem, producing a clean finished product. Look for overlock and serger sewing machines with high-quality blades that can be sharpened or replaced.

Buy Sewing Machines
Back to Guides Directory