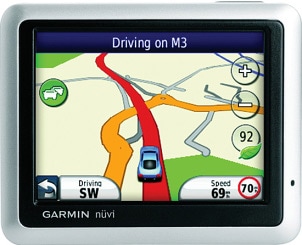 The more advanced features of GPS systems are what set one device apart from the rest. Garmin GPS navigation features often lead the industry with new navigation and communication technologies designed to make travel-assistance simple and seamless. Watch for some of these features to find a cheap Garmin GPS loaded with the latest technology.
Best Garmin GPS Features:

Lifetime GPS maps and traffic updates: You can offset significant costs when you buy Garmin GPS devices that include lifetime map and traffic updates. Traffic data is especially useful in plotting fast, fuel-efficient routes. Garmin offers these package deals to help you offset the long-term costs of owning GPS navigators. Take advantage of discount map updates and traffic subscriptions and you won't have to worry about ongoing payments or out-of-date map data, yet you will still have full access to these advanced GPS features.

True voice commands for many functions: Many GPS systems have at least a few voice commands, but true voice controls will let you control Garmin GPS menus, speak addresses and make hands-free phone calls if your GPS system supports it. Look for clarifications in the description of each Garmin GPS to see how far these features actually go.

Dual auto and pedestrian GPS abilities: You can find specialty Garmin GPS devices for your car or the open trail, but it may be a good idea to look for a navigator with adequate features for both. Look for a Garmin GPS with advanced auto features that you can also use as a hand-held portable GPS device, both in urban and wilderness areas.

Internet connection and subscription packages: Internet connectivity starts to blur the line between your Garmin GPS and your computer. Having Internet access on the go can be extremely handy, letting you locate restaurants, get movie show times or locate business addresses, which you can then find using your GPS. As with GPS maps and traffic data, you may be able to find discounts on Garmin GPS systems with long-term Internet connection subscription offers. If you can't find a subscription packaged with Garmin GPS devices, you might be able to find deals for GPS access with your existing wireless carrier.

Buy Garmin GPS Navigation
Back to Guides Directory