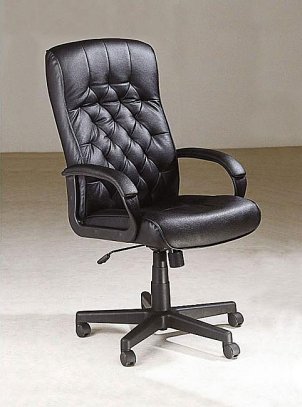 When you sit at work all day, your office chair can make all the difference. An uncomfortable or improperly adjusted office chair can lead to aches and pains. Choosing the right office chair for you can, however, be difficult with so many options available. The following list of office chair features can help you decide which features you'd like your chair to have.
Office Chair Features:

Base: Many office chairs have a five-point chair base with wheels. This type of base provides ultimate stability and movement. Since you want your rolling office chair to move and turn easily without tipping over, look for office chairs with five-point bases. Office chair bases measuring at least 27 inches in diameter will provide the best stability.

Casters: You'll want to choose a chair with casters based on the type of floor you have in your office. Hard plastic or metal casters work well on industrial carpet. There are also soft wheel casters for linoleum, tile and wood floods. To prevent materials from interfering with the movement of your computer chair, look for hooded double-wheel casters.

Glides: Not all computer chairs need to roll. Glides are a stationary foot for users who don't need the rolling feature of casters. Office chairs with glides are ideal for waiting areas and conference rooms. A nice stationary leather office chair can even be comfortable for working at an office desk.

Foot rings: You'll find these circular metal bases on certain types of swivel office chairs. Chair foot rings are used mainly on drafting chairs, task chairs and medical office stools for extra foot and leg support. The foot ring balances the chair to accommodate shifting and turning without tipping.

Spring tilts: These are designed to allow you to change the angle of the seat. A spring tilt is what enables you to change your body position during the day and transfers some of the upper body weight to the backrest of your desk chair.

Seat sliders: The seat sliders in your office chair adjust the seat forward or back on a horizontal plane. This is primarily found in ergonomic office chairs that allow you to adjust the seat to the proper angle.

Adjustable arms: The arms of many office chairs move up and down, which allows users to move closer to their workstations. Adjustable arms can also take tension off of the shoulders and neck, especially while typing.

Knee tilting: The knee-tilting feature adjusts the tilt of the seat of your office chair and can be adjusted for a more natural sitting position. An ergonomic office chair can be adjusted to allow your legs to sit at a 90 degree angle. Reclining office chairs will have a knee tilt to adjust the seat when reclined.

Gas lifts: You can use gas lifts to adjust the seat height in relation to the desk for comfort and ergonomic benefits. This can also allow you to move your desk chair closer to your workstation and to achieve the right angle in relation to your computer screen, reducing strain on your eyes.

Buy Office Chairs and Accessories
Back to Guides Directory