Faucet Buying Guide
by Staff Writer
When you're replacing kitchen faucets or bathroom faucets that have broken or you're just working on a new look for your kitchen or bath, it can help to know a bit more about plumbing fixtures. Before checking out our wide selection of faucets for sinks and tubs, look over this faucet buying guide for some tips on selecting the perfect fixture for your plans.
Buying a Faucet: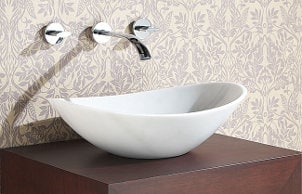 Shop Faucets ▸
Faucet construction:

Modern faucets are usually made from brass, an alloy that's durable and rust-resistant. New materials, like the ceramic disks have replaced rubber washers, so new faucets are less likely to spring a leak.

Finishes:

On the outside, there is something for every taste, with finishes to match any bathroom or kitchen decor. These finishes include chrome, brushed nickel, polished brass, oil-rubbed bronze, antique copper and antique bronze. Many of these new surfaces are extremely durable, requiring little maintenance.

Chrome: The shine and durability of chrome-plated bathroom faucets gives a clean, modern feel to a sink or bath. Chrome tub faucets require regular cleaning to stay bright, especially if you live in an area with hard water.

Nickel: Nickel can have several textures. A satin nickel bath faucet will have a bright appearance, without the mirror-like reflection of chrome. Brushed nickel sink faucets have a texture similar to stainless steel, with warmer tones.

Brass: Brass tub and shower faucets come in several colors and polishes. Polished brass has a classic shine, whereas antique brass has a duller look with a kind of burnt appearance. Polished antique bath faucets mix the shine and color of both.

Bronze: Weathered bronze or oil-rubbed bronze give a dark appearance with the texture and feel of age.

Pewter: If you want a genuinely antique look, pewter can give you that weathered, aged look of pitted metal.

Copper: Copper has a color and warmth that is unmatched by other metals.

Faucet styles and configurations:

Sink faucets and shower fixtures feature a wide variety of styles to match your kitchen or bath designs. The main consideration when selecting a faucet is the spout and handle configurations that your current plumbing fixtures support and whether you will need to adjust those fixtures to accommodate your new shower faucet or bath faucet handles.

Center set:

A center-set faucet will have the valve and spout in one unit. Dual-handle faucets have one handle for hot water and one for cold. Single-lever faucets have one lever or knob to control water flow and temperature. Both the handles and spout are on the same mounting piece, which fits onto the sink or countertop.

Widespread:

There are a lot of different styles of widespread faucets, which feature separate mountings for the hot and cold water valves and the stem. You'll often see these in older homes, and the style is making a comeback with modern reproductions, materials and finishes.

Waterfall:

You'll see waterfall faucets frequently paired with vessel sinks. They feature a wide stem, either with a lever valve or separate handles. A wide faucet mouth creates a waterfall effect to the flow. Many of these have a modern look and use glass or ceramic to achieve a unique appearance.

Wall-mount:

A wall-mount faucet is most common for shower and tub faucets, but a wall-mount faucet can give an old-world feel to kitchen and bath sinks, too. Both levers and stem are attached to the wall instead of the sink. Both the wall and the water supply lines must be compatible since flex hoses typically aren't used.

Other features to consider:

The type of sinks used with your kitchen or bath faucets may limit your choices. Be sure that your sink has enough faucet holes to accommodate the kitchen faucet that you've chosen. Most sinks will have at least three, but a sprayer or matching soap pump will require another hole.