Farmhouse Decorating Ideas
Farmhouse decor embodies the simple comforts of a country home. Even if early morning chores and long days in the field are not your cup of tea, you can still capture the lived-in charm of farmhouse style with a few decorating techniques.
Farmhouse Decor Style
The key to capturing the farmhouse look is light, clean surfaces paired with comfortable furniture, and familiar accents. Farmhouse furniture displays worn edges and imperfections as if passed down over time. Open shelving is lined with functional items like porcelain pitchers and glass vases that act as decoration when not in use. Whitewashed finishes and industrial lighting keep the space bright yet understated. If you long for the comfort of an old-fashioned homestead, read on for more farmhouse decorating ideas.
Farmhouse Kitchen Ideas
As the heart of the home, a farmhouse kitchen is a hardworking space. Butcher-block countertops provide extra work surfaces, while open shelves and spacious drawers add much-needed storage for kitchen essentials. Industrial touches like metal stools and pendant lights keep this country-chic look grounded and functional.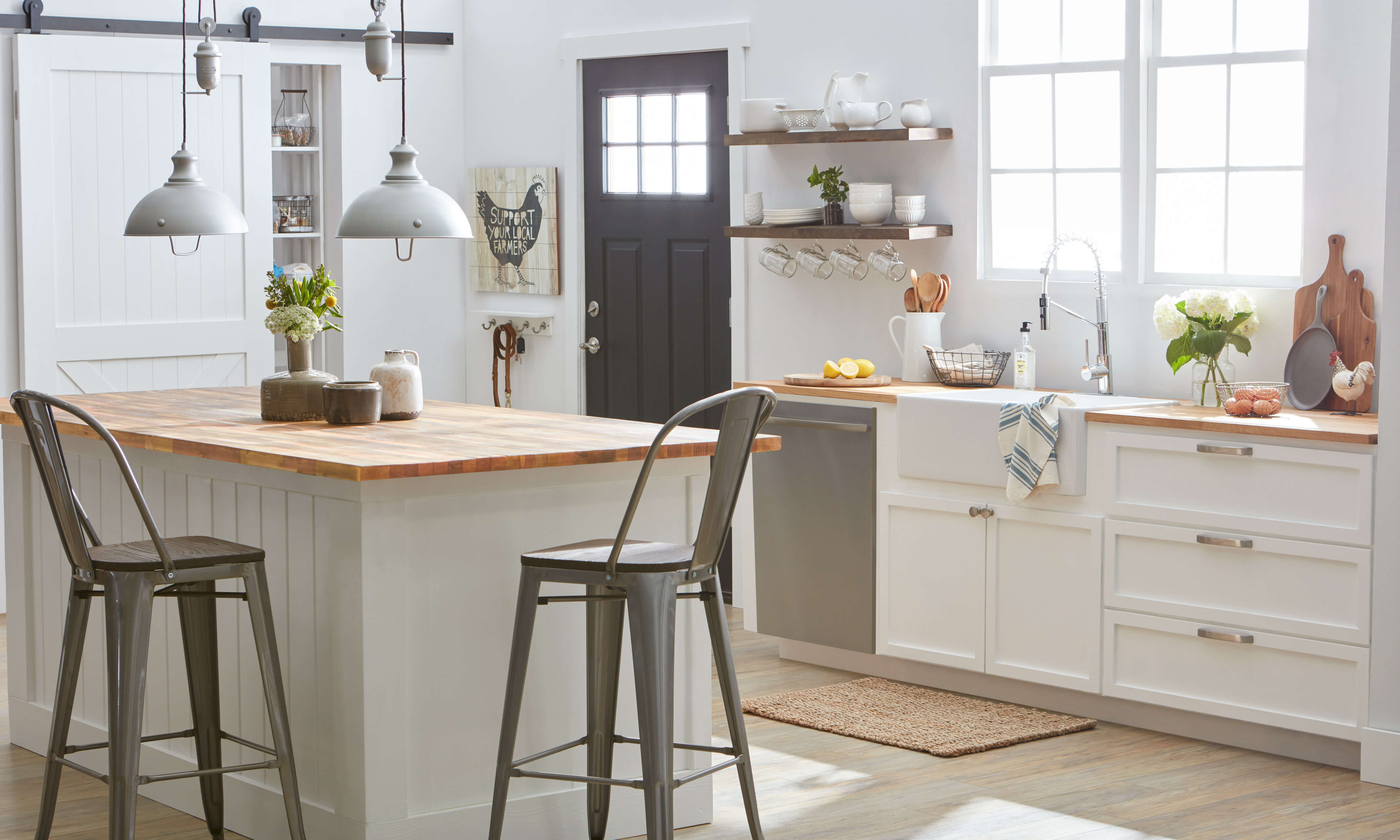 Farmhouse Kitchen Essentials
A farmhouse kitchen is light, clean, and practical. While there are a few stylistic details that punctuate the design, everything in a farmhouse kitchen pulls its own weight. From the open shelves that display china and serveware to the sliding barn door that conceals the pantry, a farmhouse kitchen is nothing short of a workhorse. A classic apron-front sink will give your farmhouse kitchen an old-fashioned touch. Apron-front sinks provide timeless appeal and offer spacious basins that are perfect for soaking large pots and pans. Although you don't have to go literal with your decorating to achieve a farmhouse look, a few charming chicken-themed accessories can add a little whimsy to your decor. Tea towels, dishware, and figurines that feature this iconic farm animal are just the right touch to complete your homestead kitchen.
Farmhouse Living Room Ideas
Comfort is central to a farmhouse living room. Natural light filtered through gauzy linen drapes sets the mood of this country-themed space, while muted shades of oatmeal, heather grey, and cream invite you to settle in. Rugged textiles like distressed wood, woven jute, and galvanized metal balance out the design with depth and texture. See below for a few suggestions or check out our guide to Farmhouse Living Room Ideas.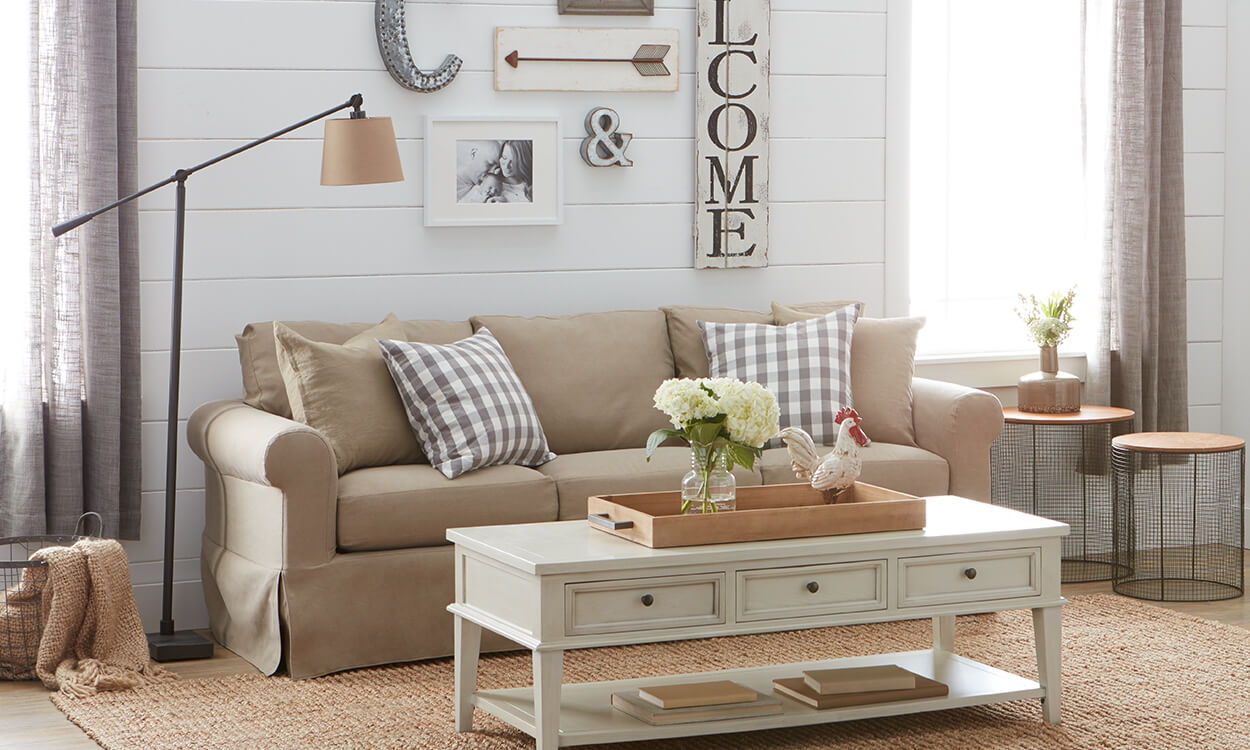 Farmhouse Living Room Essentials
Achieving a farmhouse living room is easy if you keep comfort in mind. Use a creamy color palette, natural textiles, and cozy furniture to create a relaxing space to unwind in after a long day. Furniture that features light shades of taupe, tan, grey, and cream will keep the space soft and bright. Bring in familiar items that mimic farmstead staples like wire baskets to store throw blankets and galvanized metal end tables to organize decor. A woven natural-fiber rug provides cushion underfoot and brings a textural component to the space. Tie in antique-style pieces like a swing-arm floor lamp and distressed wooden signs to dress up the walls and add a vintage touch to the decor.
Farmhouse Bedroom Ideas
A large part of what makes a farmhouse bedroom so peaceful is the simplicity and uncluttered nature of the design. The decor and color palette are kept simple and light — creating a restful atmosphere where distractions are minimal and sleep is the highest priority. Plush bedding and antiqued furniture give this country bedroom a homey, tranquil quality.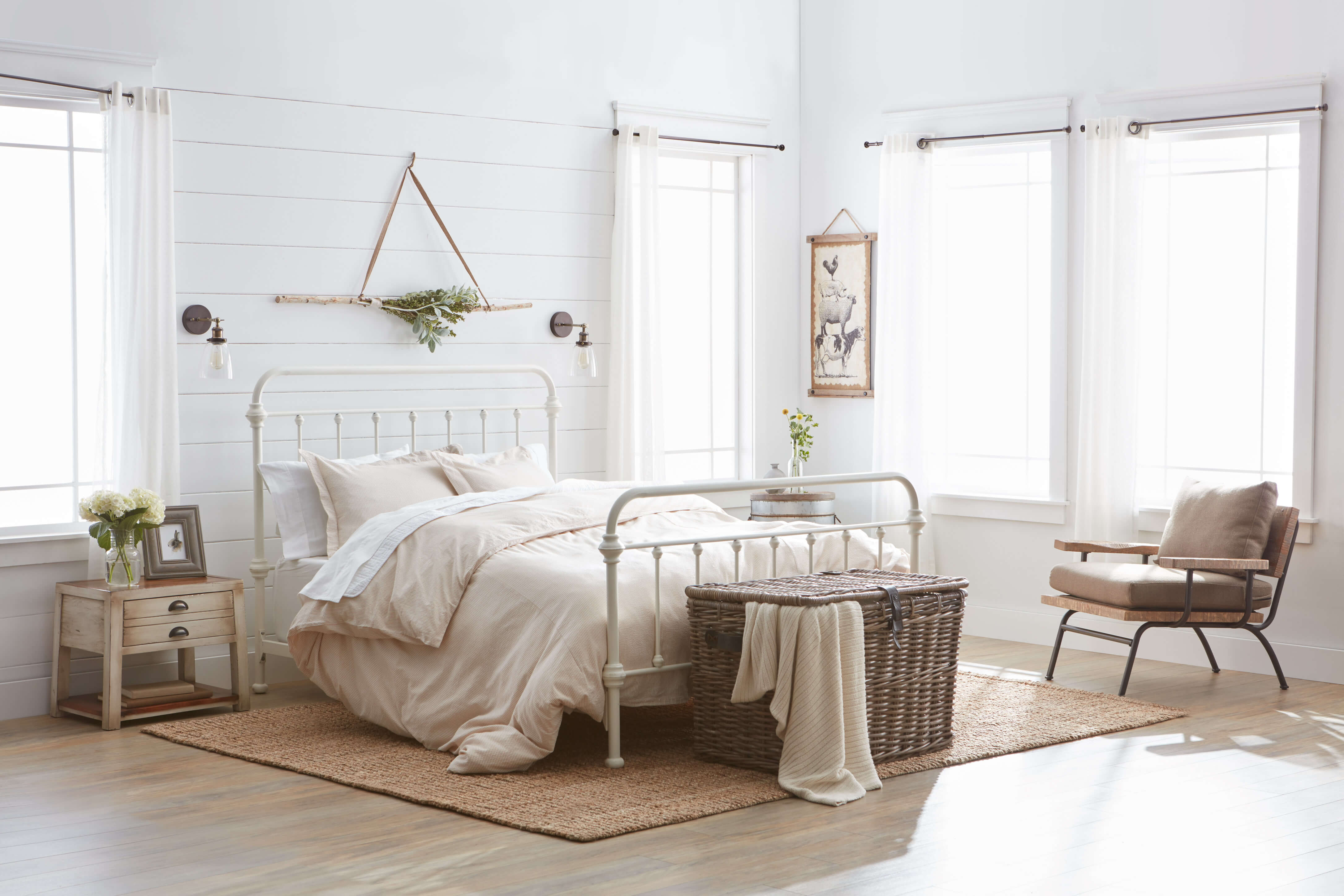 Farmhouse Bedroom Essentials
When styling your farmhouse bedroom, keep decor simple and understated. Sheer window treatments are a great way to softly filter morning sunlight and give the room a serene glow. A whitewashed iron bedframe paired with rubbed bronze sconces will provide just the right touch of vintage charm. Natural elements like branches, cut flowers, and greenery add an organic dimension to the room, while plush bedding and a natural fiber rug keep the space cozy and relaxing. Bring in additional storage with a wicker trunk to store linens and extra bedding.