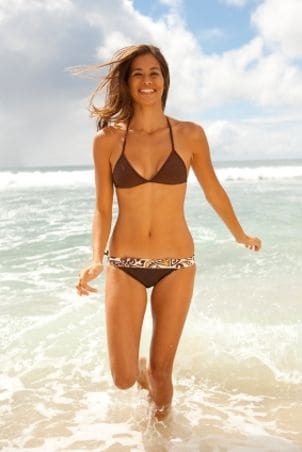 When you're searching for the perfect women's swimwear for the beach or the pool, a few questions about women's swimsuits are bound to come up. Will a one-piece swimsuit give you the coverage you want, or will a two-piece swimsuit, such as a tankini, be more convenient? If you wear a bikini, will you be able to avoid tan lines? The answers to these frequently asked questions follow, as well as tips on picking the best bathing suit to fit your style and your figure.
Questions about Swimwear:

What can I do to avoid tan lines?
No one likes to have tan lines from women's swimsuit straps, and one solution is to have a few different women's swimsuits. A variety of swimsuit straps will cover your shoulders in different places on the different days you wear them, giving you the chance to tan evenly. You can also look for a bandeau swimsuit, which offers a strapless look, or purchase a tank swimsuit with a halter top so you can adjust the straps.

I feel so self-conscious in a swimsuit. What can I do to still feel covered?
Wearing a swimsuit doesn't have to mean feeling overexposed. You have many choices that could work for you:

Sarong or wrap: You may want to choose a tank swimsuit that comes with a matching wrap or cover. If you're feeling shy, you can keep your wrap on and still look summery.

Vintage styles: You may also want to consider choosing a vintage-inspired swimsuit. These classic swimsuit styles usually aren't as high-cut on the legs or as low-cut in the front. You'll be more covered up and you'll have a cute pin-up girl style in a bandeau swimsuit.

Boy shorts: Another choice is a bikini or tankini with boy shorts. You'll still be in a cute two-piece swimsuit, but you'll have more coverage on your legs than you would in a string bikini.

Skirted suit: Both a one-piece swimsuit and two-piece swimsuit is available in a skirted style. A skirt can give you a little extra coverage on your thighs.

New bathing suit: Sometimes just having a great-looking bathing suit is enough to help you feel confident, so throw out your old women's swimwear and bring in something new.

Buy Women's Swimwear
Back to Guides Directory