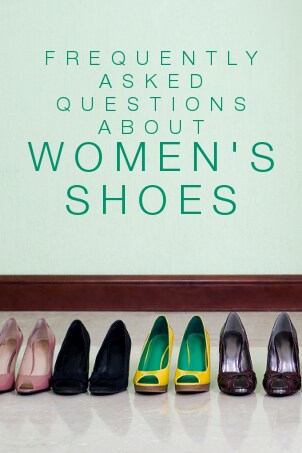 Do you have questions about shopping for, wearing, or taking care of your shoes? These answers to frequently asked questions will help you feel confident when you shop for and wear women's shoes.
Common Shoe Questions:

Why should I shop for shoes online?
If you're hesitant about shopping for shoes online, you may not have considered all of the benefits.

Online Shoe Shopping Benefits:

Selection: The stores near you can only carry the shoes that fit between their walls, but online shoe stores can keep a much larger inventory. You'll find styles that no one else has.

Low prices: Online shoe stores can offer you lower prices because they aren't paying salespeople or a lease in the mall.

Sizes: A regular store may not stock wide or narrow sizes, but an online shoe store is more likely to have more size options.

Brand names: Is there a brand name you love, but you can't find it in stores? Just search for it in an online shoe store and find exactly what you want.

How many shoes do I really need?
While some women believe you can't have too many shoes, other women would rather narrow down their collection. If you want to be more practical about buying shoes, here are some basic guidelines.

A Basic Shoe Wardrobe:

For warm weather, you should have two pairs of work shoes, whether those are office shoes or comfortable, supportive shoes; two pairs of sandals, one with heels and one pair without; and one pair of flip-flops.

For colder weather, you should have two pairs of boots, including a dressy pair and one pair you can wear to work; one more pair of shoes you can wear to work (whatever style is best for your job); a pair of shoes you can wear out in the evenings; and one pair of comfort shoes, like athletic-inspired shoes or clogs.

How do I break in a new pair of shoes?
No matter how excited you are about a new pair of shoes, try not to wear them for a full day the first day, and avoid wearing your new shoes two days in a row until they've softened up a little. If your shoes have a slick sole, make sure you scuff the soles up a bit; wear them around the house on hard floors or apply an adhesive traction patch to the sole.

Which socks or hosiery will look best with my shoes?
First, think about the thickness of the socks or hosiery, and make sure that the shoes will fit properly and that the thickness is appropriate for the shoes. The thicker the socks, the sportier the shoes should be. Next, think about the color. In general, socks and hosiery should be a lighter shade of your shoes. Matching the color of your hosiery to your shoes can make your legs look longer.

How do I make my shoes last?
Once you've found shoes that you love, you'll want to make them last. With just a little effort, your new shoes can stay looking new for years. Here's how to extend the life of your shoes.

How to Care for Your Shoes:

Rotate your shoes: Don't wear the same shoes two days in a row. The foot perspiration from the previous day needs to dry out.

Store your shoes properly: Use shoe trees to preserve the shape of your shoes, and don't let your shoes sit in a big pile where the heels of one can scratch the surface of another.

Meet your neighborhood cobbler: All heels wear out, and usually they'll wear out unevenly. Replace heel tips before they wear down to the shoe to prevent expensive -- or irreparable -- damage.

Keep them clean: Remove any loose dirt from your shoes, and let wet shoes dry out in front of a fan (but never in front of a heat source). Use products to protect the materials, like polish for leather or silicone spray for suede.
What Do You Want to Do Next?

Shop Heels
Shop Women's Boots
Shop All Women's Shoes
See All Guides
Read More Clothing & Shoe Guides
Learn More about Shoes