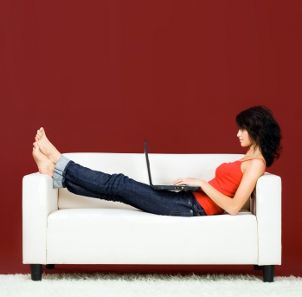 Whether you're purchasing women's jeans for the workplace, the weekend or everyday wear, you may be wondering which denim jeans are best for different occasions. You may also have questions about the length of jeans for women and the right designer jeans to keep in your wardrobe. No matter what concerns you have, we have tips that make buying denim jeans even easier.
Questions about Ladies' Denim:

How long should my jeans be?
Jeans come in many lengths, but the most flattering length -- the one that will make your legs look long and lean no matter what shoes you are wearing -- is about 1/4-inch from the floor. If the women's jeans you buy are too long, take them to a tailor who will reattach the hems instead of just turning them up; bring the shoes you plan to wear with boot-cut jeans or other jeans for women so the tailor can get the length just right. If you have long legs, you may want to spend a bit more for designer jeans, which tend to be longer than less expensive pants. Women's skinny jeans also tend to be longer since they hug the legs and ankles snugly.

I work in a casual office, but I still want to look professional. Which jeans would be best to wear there?
Here's your rule for wearing jeans to the office: The darker the jeans, the more dressed-up you look. Avoid distressed jeans, which may look like you're working in the yard instead of the office. For an extra dash of style, try trouser jeans, which are cut like slacks instead of the standard five-pocket style. To keep straight-leg jeans looking their best, you may want to have them dry cleaned. If you choose to launder them at home, wash your dark jeans inside out in cold water and add a thimbleful of vinegar to the load to set the dye and keep the jeans dark.

How many pairs of jeans should I have in my wardrobe?
You don't need to build a second closet just for jeans, but you don't want to wear the same pair every day. As you are online shopping, be sure that you have a pair of jeans you can wear when you dress up, such as trouser jeans, and casual jeans, such as distressed jeans, you don't worry about ruining. You should also own a pair of women's skinny jeans you can wear when you go out on the weekend and a pair of boot-cut jeans or straight-leg jeans you can wear with flats and heels.

Buy Women's Jeans
Back to Guides Directory