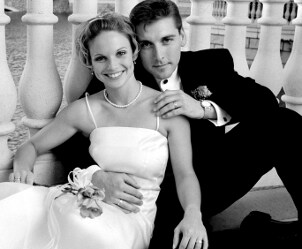 Wedding jewelry is a big part of our wedding traditions. Engagement rings, wedding bands and bridal jewelry all add sparkle and shine to getting married. When you are planning a wedding, you have many wedding jewelry choices to make. Engagement rings and wedding rings are both integral to the process of marrying, and most brides and grooms like to add wedding accessories to their gowns and tuxedos on the big day. Whether you are looking for a simple set of matching wedding rings or you want to find the perfect bridal jewelry to wear with your gorgeous wedding ball gown, our tips about wedding jewelry is a great place to start.
Common Wedding Jewelry Questions:

Do our wedding rings need to match?
Not necessarily. Bridal rings and wedding bands can fit the style preferences of the wearer. Some couples prefer to have matching bridal rings; many ring sets are available that include rings for the bride and groom or a pair of commitment bands. Otherwise, you can keep the sentiment of a matched set by choosing rings crafted of the same metal or by having each ring engraved with your names, a saying or the wedding date.

What are the best materials for the wedding bands?
The group of metals used for wedding jewelry has expanded in recent years, and each metal has its positive qualities. Gold is the most traditional material and is the only metal with a warm, yellow color. Other traditional choices include white gold, platinum and sterling silver, all of which can be polished to a brilliant shine. Many contemporary jewelry designers eschew the precious metals in favor of the industrial metals, such as stainless steel, titanium and tungsten. The industrial metals are more common in men's wedding bands than in women's rings. Platinum, titanium and tungsten are stronger than gold and silver. The industrial metals also resist scratching better than the precious metals. Some people are allergic to gold or silver. On the other hand, platinum, tungsten, surgical stainless steel and titanium are hypoallergenic.

How do we care for our wedding rings?
Your wedding rings will keep their shine for a lifetime if you take proper care of them, and they actually require little maintenance. For metal bands and diamond rings, clean them occasionally by soaking in a mild solution of water and dish soap. Use a soft brush to clean the diamonds and the settings. Rinse the rings in fresh water and dry them with a soft, lint-free cloth. Visit a professional jeweler every few years to have the settings on diamond rings checked for loose stones or damage. A jeweler can buff and polish a metal band that has been scratched, tarnished or discolored.

How can we be sure our rings will be perfect and ready for our wedding day?
Retailers have their own guidelines for returning, resizing or altering engagement rings and wedding bands, and you need to understand these policies before you complete the transaction. In addition, purchase wedding rings at least two months before the wedding, if you have the time, in case you need to have rings adjusted. This timeframe gives a jeweler time to have rings custom-fit to your specifications.

Buy Wedding Rings
Back to Guides Directory