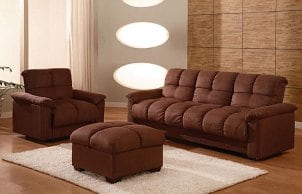 Upholstered furniture is probably the most popular type of furniture in the country today. Not only does it look good, but it also feels great and is arguably the most comfortable of all furniture. A combination of covering, frame, springs and padding provides the essentials of any upholstered furniture. The quality of the upholstered furniture that you buy is determined by subtle variations in the quality of materials and workmanship. Take a look below to learn answers to some of the most frequently asked questions about upholstered furniture.
Questions about Upholstered Furniture:

What types of spring systems are used?
There are two standard types of spring systems used in upholstered furniture: eight-way tied spring systems and sinuous spring systems. Eight-way tied spring systems are usually used in the bases of sturdier furniture. They provide an even comfort level over pieces of furniture, meaning that they never bottom out, no matter how much weight or pressure is applied. Sinuous spring systems usually produce a softer seat. They are typically used in furniture that sits closer to the ground and are most often seen in contemporary furniture designs. The main factor determining the quality of the furniture is the quality and quantity of the springs used rather than the spring system.

What padding is available?
The way the frame of upholstered furniture is padded affects its comfort and durability. Upholstered furniture is padded so that the fabric never has to touch the frame, which prevents fabric wear. The extra padding also makes the piece of furniture softer to sit on. Cotton and polydacron are the most popular padding materials and are used in almost all upholstered furniture. The cheapest and most common padding is high-density polyurethane foam wrapped in Dacron. The density of the foam and the quantity of Dacron used in this padding determines its softness. Spring-down cushions are made of innerspring coils that are surrounded by Dacron and put in a muslin bag. This not only makes the padding soft, but also gives it a nice surface feel. The most luxurious padding you can get is blendown cushion, which consists of down and feathers wrapped around a foam core. This padding makes particularly soft seats but regularly need fluffing to keep it in shape.

Is upholstered furniture flammable?
Fires that are fueled by upholstered furniture are usually a result of human negligence rather than the furniture being particularly flammable. However, if you are worried about this, you can get flame-retardant upholstery that will decrease the flammability of your furniture further. In general, you should keep your upholstered furniture away from heat sources, such as heaters or fireplaces, and as a strict rule, don't smoke near or on your furniture.

Buy Furniture
Back to Guides Directory