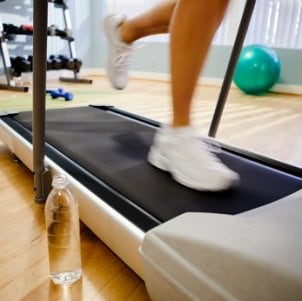 Are you looking to get in shape? If so, treadmills can help. Whether you use them for walking, jogging or running, treadmills are excellent exercise tools. Anyone in the market for a new treadmill is bound to have questions about these amazing machines, and this article is here to help. Take a look below to find answers to some of the most FAQs about Treadmills.
Answers to Treadmill Questions:

What are some additional features to think about?
The size of the belt you run on will make a difference in your workout. Make sure you get something wide enough and long enough for you to have a comfortable workout; that will depend on your body size. A pulse meter can be a valuable tool to help you monitor your progress. Grip-style pulse monitors on the treadmill frame are probably the easiest to use, since you don't have to worry about any wires getting in the way. Also, note how high an incline you can set. An inclining belt adds resistance to the workout, which helps you build and maintain muscle tone. If you go with a motorized exercise treadmill, get one with preprogrammed exercise routines you will actually use.

How can I prolong the life of my treadmill?
Make sure you get a treadmill with a weight limit of at least 50 pounds more than your weight, just to be on the safe side. This will help you avoid unnecessary wear and tear. Each treadmill description at Overstock.com includes the weight limit. Keep your treadmill free of dust and sweat. Also, check the owner's manual to find out how often you should lubricate the underside of the belt with silicone spray. Avoid using other types of spray lubricants, as they might damage the treadmill.

Is it worth to spend the extra money on a motorized treadmill?
The cheapest of cheap treadmills are manual. If you don't plan on using it very much, then go ahead and get one. Most people will probably want a motorized treadmill, though. They are easier on the joints because you don't have to strain so much when you start the belt moving, as you would on a manual treadmill. You will also get a lot more variety in your workout using the computer on a motorized home treadmill.

Buy Treadmills
Back to Guides Directory