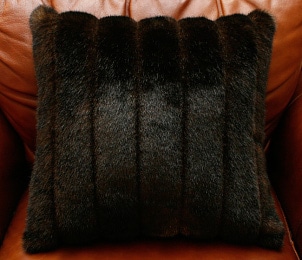 Throw pillows add the finishing touch to a room. With a splash of color or a rich monochromatic theme, they can dress up or tone down the furniture in use. Choose throw pillows to complement or contrast your decor. Pillows should suit your lifestyle as well. Change the throw pillows for an inexpensive way to change the look of the room without giving up furniture.
Frequently Asked Questions:

How do I clean a throw pillow?
If the cover is removable, take the fill out of the cover. Launder the cover according to the manufacturer's fabric-care instructions. If the cover is not removable, check the fabric content tag for cleaning instructions. Many fabrics can be cleaned using a spot cleaner or upholstery cleaner. Keep accent pillows clean by blotting up any spills immediately.

What fabric should I select?
Fabric choices should reflect the style of the room as well as the level of use. An active family may prefer heavy-duty fabrics such as denim, duck or corduroy. Use luxury fabrics such as brocades or satins in a more formal setting. Linen-weight fabrics fall between the two extremes.

What is used to fill throw pillows?
Some accent pillows are filled with a solid-core foam shape. Other makers use foam bits within an inner casing. Fiberfill is also popular filler for throw pillows. Less often, down or feathers may be used. When choosing a pillow, consider any allergies in the household and avoid fillers that might cause allergic reactions.

Why doesn't the pillow I received have the same color as online?
Monitors vary in their color resolution and may not display the image in the exact shade as the actual item photographed. Read the product description for a more accurate color description. Avoid trying to match colors exactly through an online image. You'll have better success with choosing accents rather than matches.

What kinds of decoration are used on throw pillows?
Embroidered designs -- such as crewel work, needlepoint (including petit point and bargello) and appliques -- quilting variations (such as trapunto), ribbons, lace, braid and buttons are all items used to decorate new throw pillows or give a fresh look to older ones.

What is the difference between a quilted pillow top and a smocked pillow top?
A quilted fabric uses one or more additional layers under the pillow top. Stitching through the top and layers holds everything in place and forms a decorative pattern on the pillow top. The stitches may outline the design within the fabric or form accent points with geometric shapes. The result is a slightly textured appearance. Smocking involves a single layer of fabric stitched in tiny gathers that are spaced regularly across the face of the fabric. The rows of gathers are offset to form diamond shapes between the gathers. The result is a sculpted look, which may be enhanced with beading at the stitch points or made more casual with bows of ribbon or yarn.

Buy Throw Pillows
Back to Guides Directory