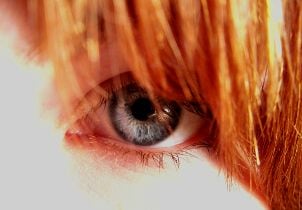 If you think you might want to dye your hair but are not ready to make a permanent hair care choice, try temporary hair dye. Temporary hair dye is also a good hair care product for costume parties and other events when you want to change your look for a night or a week at a time. Don't shy away from temporary hair dye. When you know how to use it, it can be a lot of fun.
Frequently Asked Questions:

How long does temporary hair dye last?
Temporary hair dye can last anywhere from a few days to a few months. There are several different types of hair dye to choose from, and each will last a different length of time. True temporary hair dye usually washes out after one or two washes, semi-permanent hair dye lasts five to seven washes and demi-permanent dye lasts between 20 and 28 washes. Always check hair dye to see how many washes it lasts before purchasing.

How do I apply temporary hair dye?
Different types of temporary hair dye are applied differently. Many temporary hair dyes come in spray and gel forms. These types can be applied just like hair spray and other hair products and are left in the hair until you are ready to wash it out. Other types of temporary hair dye are applied to the hair, left on for 15 to 30 minutes and then washed out. Semi-permanent and demi-permanent hair dye is typically applied this way, as are some other types of temporary hair dye.

How do I choose a temporary hair dye?
There are several factors to consider when shopping for hair dye. First, you will need to decide how long you want the hair color to last. Carefully compare products to choose one that will last the right amount of time for you. Color is also an important consideration when shopping for hair dye. Try to choose a shade that is darker than your natural hair color, as this will ensure that the color will show up well.
Tip:

Always read the manufacturer's directions when applying hair dye, as every type, brand and formulation is different.

View All Hair Care
Back to Guides Directory