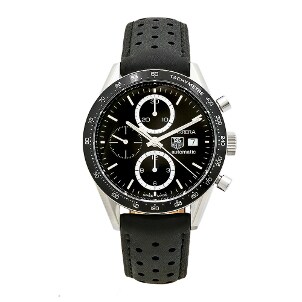 The iconic Swiss watch brand TAG Heuer has been producing luxury watches since 1860. Driven by an eye for precise detail and functional design, TAG Heuer watches make a subtle statement each time you wear them. Whether you're looking to purchase a luxury watch or just want to learn more about the brand, check out FAQs about TAG Heuer for helpful information.
Frequently Asked Questions:

What kind of watches does TAG Heuer make?
Founder Edouard Heuer invented a patent for high-quality chronograph watches in 1882, and they quickly became the brand's signature style. Today, TAG Heuer continues to produce mainly luxury chronograph and sport watches using a variety of materials.

What are the most common materials used for TAG Heuer watches?
Although TAG Heuer watches often use materials like leather and rubber for the bands, most TAG Heuer watches are comprised mainly of sleek stainless steel. Stainless steel provides the wearer with a durable watch that looks great paired with anything from a suit to a T-shirt and jeans.

Is TAG Heuer endorsed by any celebrities?
Yes, Leonardo DiCaprio, Tiger Woods and Maria Sharapova are just a few of the celebrities who can be seen sporting TAG Heuer watches.

What are TAG Heuer's most popular styles?
Three of the most popular TAG Heuer watches are the Grand Carrera, the Monaco and the Aquaracer. Inspired by motor racing, the Grand Carerra has the option of sophisticated leather straps or stainless steel links to frame its sporty face that houses two rotating systems indicating the chronograph minutes and hours. The Aquaracer aims to provide accuracy for water sports and is water-resistant up to 300 meters. An option of rubber straps allows even more protection against water damage and contours to the wrist for a personalized fit. With its square-cased design and blue alligator strap, the Monaco became an icon when Steve McQueen chose to wear the unique style in the 1970 car-racing classic film, "Le Mans."

Does TAG Heuer make other products besides timepieces?
Yes, TAG Heuer also manufactures sunglasses and mobile phones. In 2008, TAG Heuer introduced the first Swiss-engineered communication instrument called the Meridiist. Manufactured with watch-inspired features like scratch-resistant sapphire crystal and stainless steel, the Meridiist is currently only available in select European countries.

Buy TAG Heuer Watches
Back to Guides Directory