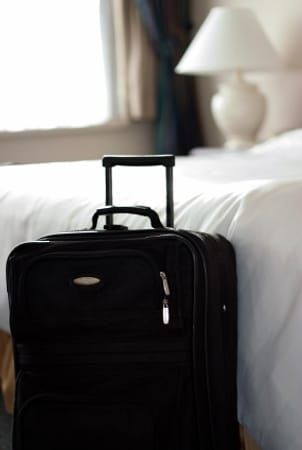 If you travel a lot or want to travel more, suitcases can pose lots of questions for you. For instance, there are so many regulations now for air travel that not knowing how to measure or pack your suitcase can seriously delay your travel plans. Knowing the answers to some frequently asked questions about suitcases can help you do everything from choosing the right luggage to preparing for a flight. Keep reading to discover the answers to common questions about suitcases.
Questions about Suitcases:

How do I measure my suitcase for airline travel?
The first regulation to consider when you travel by plane concerns size limitations of your luggage. Most airlines only allow carry-on luggage that is less than 45 inches in total measurement. To find the total measurement of your suitcase, measure its height, width and depth, and then add the three numbers together. If the bag exceeds 45 inches total, you'll probably have to check it; also, most bags over 22 inches long won't fit in overhead bins. If you have suitcases with wheels, include the wheels in your measurements. Another airline regulation to consider is the weight limit of your baggage, especially checked bags. Choosing lightweight suitcases will greatly help with this limitation.

What security measures should I be aware of when packing my suitcase?
An important security measure deals with liquids and creams; when you need to take toiletry items with you in your travel luggage, put them in clear, 3-ounce bottles and then put the bottles in a quart-size zippered plastic bag. This allows the airport security officials to view the liquids and determine their eligibility to go onboard an airplane. You may also want to lock your suitcases with TSA-approved locks; airport security officials have the universal key to this kind of lock, allowing them to open your baggage if they need to do a manual check and then lock it again to keep thieves out.

What's the best way to pack a suitcase?
Learning how to pack a suitcase can greatly help you take more things with you or meet airline requirements, and it's fairly easy, too. First, roll your clothes; this takes up less space and creates fewer wrinkles than folding does. Place the sturdiest items or those you won't need very soon at the bottom of your travel luggage. Some items, like socks and underwear, can be stuffed into small spaces to make your packing the most efficient. Using lightweight suitcases and other lightweight luggage will also make a big difference.

How do I choose a suitcase that can handle most of my traveling requirements?
Investing in suitcases that can work in a variety of situations is the most efficient and cost-effective way to travel. Choosing lightweight luggage is always a good idea; it will help you meet airline restrictions when you fly and will be easy to carry whenever you travel. Suitcases that are small enough to be considered carry-on luggage are also a smart investment, as they can save you baggage fees if you travel light enough to only need the one bag. Suitcases with wheels and backpack straps allow you multiple options of transporting your bag.
What Do You Want to Do Next?

Shop for Suitcases
Shop for Kids' Suitcases
See All Luggage & Bags
See All Guides
Read More Luggage Guides
Get More Luggage Tips