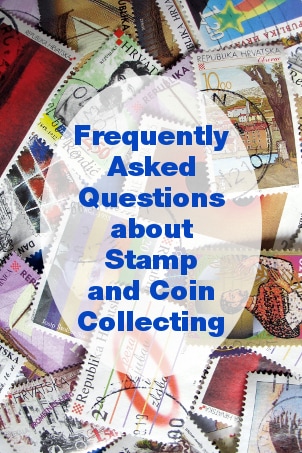 SHOP COINS & STAMPS NOW >>
Stamp collecting and coin collecting can be separate hobbies or mixed together as one. Most collectors choose one or the other, but some do both. Numerous resources are available to learn about these collectibles, but sometimes the information is written for other collectors and isn't of much use to novices. This article will answer some of the most frequently asked questions about coin and stamp collecting.
Stamps and Coin Questions:

When did people start to collect stamps?
Stamp collecting became popular because of the vintage qualities and historical interest. Values of individual stamps rose because they became rare as time passed, and few were kept in good condition. Other stamp collectibles, such as misprints or plate coil numbers that were hard to find, became an interest, too. Some stamps are even collected for the unique artwork they offer.

When did people start to collect coins?
Coin collecting began when scholars and state treasuries started to collect and catalogue them. People also collected old or exotic coins for art. After coins began circulating more frequently, people started noticing flaws which became part of the collecting interest. The condition of coins is a key factor in coin collecting.

How popular is collecting?
Even though it may not be as commonly mentioned now as it has been in previous years, collecting is still one of the top 10 hobbies in the world.

What's the best way to get started?
For stamp collecting, one way is to go through received mail and start gathering stamps. For coin collecting, start by examining the spare change in your pocket. Many books are available that explain the hobbies. Consider focusing on specific interests or themes to study and collect. There are also internet groups with members who are willing to help collectors begin and forums with a lot of information available.

Who collects stamps and coins?
Anyone can collect coins and stamps; it just takes time and dedication. Many people do it in their spare time as a hobby while others have turned their passion into a full-time occupation.

Are only regular stamps and coins collected?
People collect all kinds of stamp- and coin-related objects, like specialty stamps and coins, rubber stamps, paper money, envelopes and paper, and other related items. They can also be collected in singles or multiples as well; for stamps, these are called plates and are sometimes referred to as blocks.

What are philatelists and numismatists?
A philatelist is one who studies stamps and other mail-related materials but doesn't necessarily collect them. A numismatist is one who studies coins and monetary-related items and information but doesn't necessarily collect them. The two terms are often confused for people who collect rather than study stamps and coins. Some people who start out as collectors then become philatelists or numismatists.

How are stamp and coin values determined?
Values for stamps and coins are determined by the condition, quality, rarity, popularity, material, and location. These may not all be taken into account at the same time, as there may be different variables for each item or collection.

Shop Collectible Coins
Shop Collectible Stamps
Shop All Coins & Stamps
See All Guides
Read More Toy & Hobby Guides
Learn More about Collectibles