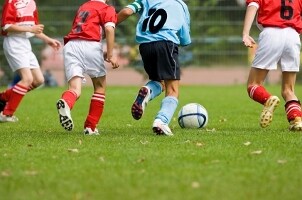 Purchasing the right soccer equipment is essential to a good game. While you can get started with just a goal and a soccer ball, some additional soccer equipment is a good idea. Buying clothing and shoes specifically made for soccer improves comfort, while safety gear prevents injuries.
Frequently Asked Questions:

How big should the soccer ball be?
Soccer balls for playing the game come in three different sizes: three, four and five. A size three ball measures 23-24 inches in diameter and weighs 11-12 ounces. Size three balls are best for players under the age of eight. A size four ball, which is best for players age 8-12, is slightly bigger at 25-26 inches and 12-13 ounces. Size five soccer balls, measuring 27-28 inches in diameter and weighing in at 14-16 ounces, are appropriate for anyone over the age of 12.

What are the dimensions of a standard goal?
In a professional game, soccer goals are 8 feet high and 24 feet long. In youth games, for children below the high school level, the goals are typically 4.5 to 6.5 feet high and 9 to 18 feet long, depending on the age of the players. High school students usually use a professional-sized goal, while the usual size for college goals is 7.5 feet high by 21 feet high. Soccer goals have rope nets on the sides and back to stop the ball, and you may have to purchase nets separately from goals, depending on the manufacturer.

Do I have to buy soccer cleats?
Soccer cleats are not required by FIFA or most other soccer organizations, but they help prevent slipping on the field. If you purchase cleats, make sure you buy shoes specifically for soccer, rather than using baseball or football cleats. Baseball cleats have a cleat on the toe, which is not only against FIFA rules but also dangerous if you accidentally kick someone. Soccer cleats do not have a cleat on the toe.

What clothing should I get?
The typical soccer uniform for soccer players is a jersey, shorts and soccer socks. The simplicity of soccer clothing maximizes comfort when playing in a game or practicing. Tall soccer socks are necessary for covering and securing shin guards. Soccer jerseys and shorts are designed to breathe well and not restrict movement when playing soccer.

What safety equipment do I need?
Shin guards are a must in soccer to protect shins from inevitable bumps and collisions. Soccer shin guards should be made of rubber or plastic. A protective cup is also a good idea for boys.

View All Soccer
Back to Guides Directory