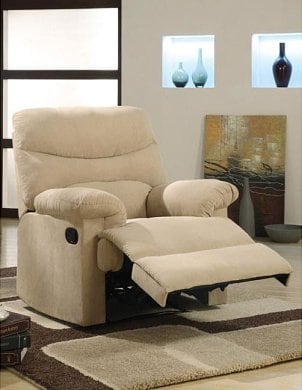 Add a comfortable recliner to your living room, and you'll always have the perfect place to relax. If you aren't sure if a recliner chair is right for your home, or if you aren't sure which one to choose, let the answers to these frequently asked questions about recliners help guide you.
Common Recliner Questions:

What fabrics are available for my recliner?
Although leather recliners are the most popular, you will find them in a wide variety of fabrics and colors. If you have a solid-colored couch, try a recliner in a print from the same color family. If you have a leather sofa and want to mix up the look, add a reclining chair in a coordinating earth-tone print or a classic stripe. If your sofa has a pattern on it, a solid recliner may be best, whether upholstered in leather or another textile.

What is the best way to make sure my recliner matches my furniture?
Living room furniture sets are the perfect solution. Not only will you have at least two or three pieces at a better price than if purchased alone, but they will all match each other perfectly. Often, these furniture sets include a reclining sofa and a loveseat or a recliner. You can also find a few sets that will furnish your entire living room that would also include a sofa, recliner, and loveseat.

I would love to recline, but I have a small living room. Will a recliner fit?
Recliners can take up quite a bit of room, especially when the foot rest is extended. If you don't have the square footage to spare, look a reclining chair with a leaner profile, such as one with wooden arms. Not only will it take up less space, but it will visually seem smaller because the sides are open.

I don't always want to recline, but I love to sit with my feet up. Which chair would work best for me?
A push-back, or flex-back, recliner would be the best choice. With a flex-back recliner, just add an ottoman and you have a soft and versatile recliner. Plus, when you decide to recline, there won't be a foot rest that pops out and hits your ottoman. If you choose an ottoman, you might also like a rocker recliner with a matching rocker ottoman.

Aren't recliners expensive?
It depends on the type of recliner you choose. Some high-end leather recliners will come with a larger price tag; however, you will get what you pay for. On the other hand, you don't have to spend a lot of money to get a quality recliner. You can often find recliners for sale online. Stay alert for good deals and you can pick up a great recliner for less.

Buy Recliners
Back to Guides Directory