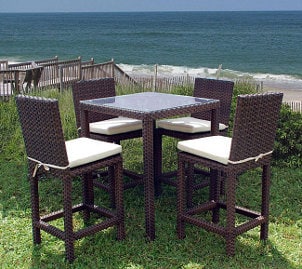 When the weather is nice, using your patio set to enjoy a meal outdoors is the thing to do. Instead of heating up the kitchen with your oven, why not grill, relax on the deck and enjoy the weather from the comfort of a great patio set. When you're ready to invest in a quality patio set, you might have some questions: Read on for the answers to frequently asked questions about patio sets.
Questions about Patio Sets:

How many pieces are there?
Patio sets come, most often, in four- and five-piece sets, but you can get them with as few as three pieces and as many as 10 pieces. You can count on a good patio furniture set to include a table as the center of the set. In addition to the table, you can expect to receive, in any combination, chairs, an umbrella, a bench and bar stools. A "bistro" set typically includes two bar-height chairs and a tall table. Kids' patio furniture sets often come with benches instead of chairs.

How big is a patio set?
The size of your patio set will depend entirely on you. If you have only a small balcony to fill, a bistro set with only three pieces might fill your space nicely. If you love to entertain and have the space to accommodate a large party, then a bigger set -- complete with dining table, chairs, umbrella, side table and even a coordinating rug -- might be what you're looking for. Even within sets of the same number of pieces, you'll find variety of size. Tables are available in sizes designed to seat from two to 20.

Do I need an umbrella with my patio set?
While you don't necessarily need an umbrella to make your patio set complete, it can certainly be a nice addition on a hot day. Your need for an umbrella depends, of course, on where you're planning to use your patio furniture set. If your garden is super shady, an umbrella might be overkill; if your deck is sun central, then an umbrella will add color and much needed shade to any meal.

What is a patio set made of?
Patio furniture sets are made from a variety of materials, with the common feature of weather-resistant materials. Wrought iron is a popular material for patio furniture because of its weight and durability. Heavy patio furniture has the advantage of not blowing away in the wind but can also be unwieldy to reposition. Wicker patio furniture sets are lighter in weight than iron furniture, but they can fade in the sun or be damaged by water. Consider your climate and whether you're willing to move furniture inside and out each time the weather takes a turn for the worse.

Buy Dining Sets
Back to Guides Directory