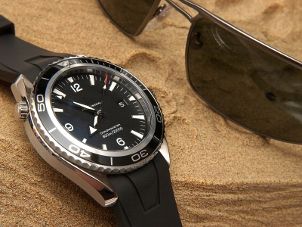 The Orient Watch Co. is a subsidiary of Seiko Epson Corporation, which produces a large variety of men's watches and women's watches. Orient does things differently than other watchmakers: More than half of their watches are mechanical. Some are hard to find, as many models are only sold in Asia. Consider the answers to these frequently asked questions if you're looking for an Orient wristwatch for your collection.
About Orient Watches:

Is Orient an independent company?
Although Orient is owned by Seiko, it operates as a separate entity and produces its own watch movements and wristwatch models. They focus more on automatic mechanical watches than their competitors, who generally focus more on quartz-powered timepieces.

How accurate are Orient watches?
Orient produces both quartz-powered and mechanical automatic men's and women's watches. While quartz-powered watches are typically more accurate than mechanical watches, Orient watches of all kinds are very accurate. The Orient Star series is the company's top-line timepiece, with a 21-jewel automatic movement and Dial-shock shock absorber system licensed from Seiko.

Do Orient automatic watches have to be wound?
The Orient Star automatic watch, like other automatic watches, is a mechanical watch that does not need to be wound by hand. Automatic watches from all manufacturers are wound by the motion of the wearer's wrist. Orient offers a wide range of automatic models. Although most automatic mechanical watches can be wound like a conventional manual timepiece, Orient automatics cannot be hand-wound. By briefly shaking the watch or wearing it for a few minutes, the wearer generates a power reserve that will last for more than two hours. An all-day wearing will give an Orient automatic watch a 48-hour power reserve.

How hard is it to find an Orient watch?
Depending on the watch model you choose, they can be easily found in a range of styles. Orient offers a line of entry-level watches that can be found in retail shops and online. High-end Orient watches, such as the Orient Star and the Royal series, are limited to authorized Orient dealers. Choose a reputable online retailer when shopping for high-end Orient watches and keep in mind that warranty work on the Star and Royal usually requires the watch to be returned to Japan.

Are Orient watches high quality?
Orient is a high-quality watch brand, and their watches are considered by collectors to be great investment pieces. Orient watches in all price ranges offer quality craftsmanship, and Orient produces many luxury watches with very fashionable styling and fine materials, from gold and steel to diamonds and gemstones.
What Do You Want to Do Next?

Shop Men's Watches
Shop for Women's Watches
Shop All Watches
See All Guides
Read More Watch Guides
Learn More about Watch Brands