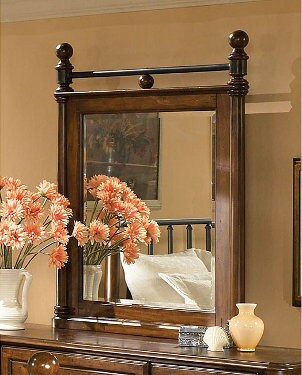 There is a huge variety of mirrors out there, from standard bathroom mirrors and decorative vanity mirrors to wall mirrors and mirrored candle sconces. With so many shapes, sizes and types of mirrors available, you may have questions about how to use and care for them. Read on to discover some of the most frequently asked questions about mirrors and the answers we've found to help you.
Common Questions about Mirrors:

What is the best way to clean mirrors?
Although many people like using a cloth, newspaper is one of the best materials to use to get a streak-free clean. Using store-bought glass cleaners will help you remove any grease and dust that may have built up on your mirrors. You can also make a homemade glass cleaner by mixing one cup of rubbing alcohol and one tablespoon of vinegar into one cup of water. Shake it up in a spray bottle. Be sure to spray your glass cleaner onto the newspaper instead of onto the mirror to prevent discoloration.

Is there a way to keep a bathroom mirror from fogging up while I'm in the shower?
If the fan in your bathroom isn't preventing fog on your bathroom mirror, try spreading a small amount of men's plain white shaving cream -- the cheaper the better -- over the mirror and wiping it off with a paper towel. This should keep your vanity mirror fog-free until you clean the mirror again.

Why do I look thinner in some dressing room mirrors than I do in my full-length mirror at home?
You'd be amazed at the tricks many stores use to convince you to buy clothes while you're in the dressing room. The lighting may be one factor, but more likely, it's the angle of the floor mirror. Just like a funhouse mirror, dressing room mirrors are sometimes angled a bit to change the way you look. Stores will often tilt the mirror so the bottom is farther forward than the top; this creates the illusion that you are taller and skinnier. There are two solutions to this: resolve to take dressing room mirrors with a grain of salt or lean your floor mirror at home against the wall instead of hanging it up to create the same flattering look.

Where do I hang mirrors in a Feng Shui-styled home?
In the ancient Chinese philosophy of Feng Shui, mirrors are thought to be like bodies of water, since water was one of the first places in which people saw their reflections. Mirrors are placed in the same areas of the home as water in Feng Shui to achieve the same effects: to change the flow of energy, to calm a room and to create a feeling of rejuvenation. Hang wall mirrors on the east walls to help your health, the southeast to help your wealth and the north to help your career path. Just like there are certain places to hang mirrors, there are also certain places to never hang them. Mirrors on the south wall will damage your reputation. Wall mirrors facing your bed will disrupt your sleep by reflecting too much energy your way, while mirrors opposite the main entry door will reflect good energy back out the door.

Buy Mirrors
Back to Guides Directory