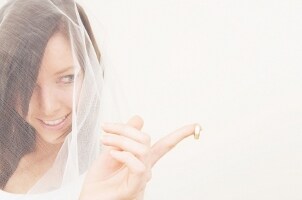 You have finally found the one person you want to make the big commitment with, and the wedding plans are coming together quickly. Although the bride will likely do more shopping before the wedding than the groom, you will need to shop for a tuxedo and a wedding band at the very least. Men's wedding bands are traditionally subtle and basic, but many different wedding rings are available for men today. Buying a wedding band can be a simple process when you know what you are looking for. Use our tips to choose a great men's wedding ring for yourself.
Common Men's Wedding Ring Questions:

Does my wedding ring have to be gold?
Not necessarily. Gold is the traditional metal for women's and men's wedding rings, but the wedding ring market is more diverse today than ever before. Industrial metals are very popular for men's wedding bands. Titanium is incredibly durable and lightweight; plus, it offers a nice pale grey hue. Stainless steel and tungsten are also good industrial metals for men's rings. Sterling silver is a good choice for anyone who is planning a wedding on a limited budget. Platinum, on the other hand, is a luxurious precious metal with plenty of shine. Don't feel bound by tradition when you are shopping for wedding rings; buy a men's ring that you will love to wear.

Do all wedding rings have the same shape?
No, there are actually several different shapes of wedding rings. The most traditional wedding ring shape features a domed appearance with rounded edges. Half-round and comfort-fit wedding bands offer this aesthetic. If you don't wear a lot of jewelry, consider a comfort-fit wedding ring. A comfort-fit wedding ring fits over the finger while minimizing contact between the skin and the metal. If you are looking for a wedding band that has a modern shape, then consider a pipe wedding band. Pipe wedding bands have a flat top and straight edges.

Can I have a unique wedding band?
Definitely. Many men don't want to wear a wedding band just like the one their father or grandfather wore, and there are many unconventional options in wedding rings today. Simple gold bands can be decorated with tribal designs or intricate engraving. Titanium, tungsten and stainless steel can be dyed almost any color. Check out blue, green or black wedding bands if you like the idea of a modern and masculine wedding ring. Many men's wedding rings also have diamonds and gemstones. You'll be wearing it every day, so choose a unique wedding band that will match your personality and wardrobe.

Buy Men's Wedding Bands
Back to Guides Directory