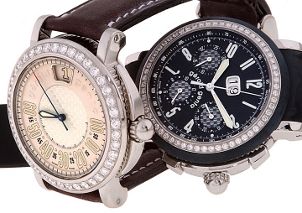 Men's wristwatches were first introduced in the early 20th century and have since become an integral part of men's wardrobes. For decades, men have worn watches for form and function. The explosion of men's quartz watches in the 1970s made men's watches a technical marvel. Today, renewed popularity in mechanical and automatic men's watches has opened up a world of fashionable, hard-working watches that are easy to use and offer a variety of features.
Frequently Asked Questions:

What is a mechanical watch?
A mechanical watch uses a wound spring that regulates the release of energy through a complex set of gears to keep time. It must be wound daily by twisting the crown. A men's automatic watch uses the same parts and functions but will wind itself with the motion of your wrist.

Which type of men's watch should I choose?
If you appreciate the mechanical operation of a watch and enjoy interacting with it, much like an automobile enthusiast appreciates a manual transmission, then you will find a men's automatic watch or mechanical watch enjoyable. If you prefer a watch that is maintenance-free and highly accurate, then you will appreciate a solar, kinetic or battery-powered men's quartz watch.

Which watches are the most accurate?
Battery-powered watches, solar watches and kinetic watches never need winding and lose very little time. Mechanical and automatic watches typically lose one or two minutes every week or so. Some watch consumers consider this small loss of time to be inconsequential. If you need a watch that is perfectly precise and like the idea of a timepiece that you don't have to think much about, then a battery-powered, solar or kinetic watch is probably right for you. Some modern watches are atomic and get their time from an atomic clock through the use of a radio signal. These watches are considered to be the most accurate and maintenance-free and come in many styles, including men's sport watches.

What types of watches are in my price range?
Watches of all types come in a variety of price ranges. Affordable mechanical and battery-powered timepieces are available in many styles. Men's sport watches can be found to fit any budget, depending on features and style. Many luxury brands produce mechanical and automatic watches with an emphasis on craftsmanship. These watches are investments, and many will last a lifetime and even become heirlooms. Consider style, function and quality when comparing men's watches.

Which is better: digital or analog?
Digital watches were immensely popular in the 1970s and 1980s when battery-operated quartz watches nearly wiped out mechanical analog watches in the marketplace. In recent years, however, analog watches have become popular again for their style and connection to the past. A digital watch will speak to you if you are most concerned about accuracy and you are technically oriented. An analog watch will likely impress you if you prefer a traditional watch that makes a fashion statement.

What additional features can I get?
Chronograph watches are popular. They contain subdials that may feature a sub-second hand, stopwatch, date and moon phase. These watches are affordable, good-looking and come in traditional or contemporary styles. These types of watches are generally battery-powered to ensure accuracy of all components. Greenwich Meridian Time watches feature a second time-zone hand. These watches will display the local time and feature a time-zone hand that points to your destination or home time. These watches are popular among frequent air travelers.

Buy Men's Watches
Back to Guides Directory