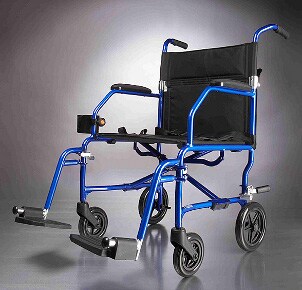 Manual wheelchairs have long been a great, affordable mobility aid choice. Unlike power-type mobility chairs, manual wheelchairs operate by the strength of the person sitting in the chair or by a second person pushing the chair. Some wheelchairs are portable, while others are custom-designed to suit the patient and his individual mobility aid needs. Here are the answers to some frequently asked questions about manual wheelchairs to help you choose the right one.
Frequently Asked Questions:

What manual wheelchair sizes are available?
Manual wheelchairs come in many sizes. Small children's models are available in a variety of types to suit kids of all ages. Adult wheelchairs are also available in many sizes, so individuals can find one that will work for them. Consider the maneuverability of the wheelchair and also the weight capacity when comparing sizes.

What are the different types of manual wheelchairs?
There are several types of manual wheelchairs to provide users with different options. Large rear-wheel chairs, equipped with a tubular ring, allow individuals to maneuver their wheelchairs without assistance. Manual wheelchairs that are meant to be pushed by a second person are lighter in weight and made to be user-friendly.

What should I look for when considering portability?
Many wheelchairs feature lightweight frames and fold easily for placement in the trunk or backseat of a car. Larger rear-wheel-propelled chairs may also fold for storage, but they are heavier than other designs and may be difficult to load into a vehicle. Some manual wheelchairs have removable armrests and wheels, allowing them to fit into small spaces. Assess your portability needs when comparing manual wheelchairs.

What are the important safety features to consider?
Manual wheelchairs should have some key safety features. Look for locking brakes on the rear wheels to keep the wheelchair stationary when needed. Removable or retractable leg and foot rests keep the user comfortable and safe. Some models feature a seat belt or a seat harness for individuals with specific support needs, and seat cushions made from gel or weight-absorbing material may reduce the development of sores and promote comfort.

View All Wheelchairs
Back to Guides Directory