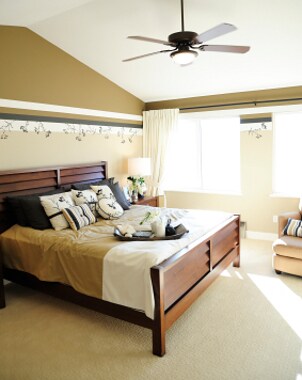 Did you know that about one-third of your life is spent sleeping? With all that bed time, you may as well be comfortable. That's why luxurious sheets are such a rewarding investment. With quality bedding, you can get a more restful night of sleep. Here are some answers to frequently asked questions about luxury sheets that will fit your budget and bedroom.
Luxury Sheets Explained:

How does the thread count affect the quality of my sheets?
The thread count refers to the number of threads per square inch of fabric going vertically and horizontally. The higher the thread count, the softer and smoother the material will be. Luxury bedding generally ranges from 450 up to 1500 thread count. Higher thread count luxury sheets are woven from extra-long staple cottons, like Egyptian cotton.

Which materials make the best luxury sheets?
The quality of luxury sheets has a lot to do with texture. Some of the most commonly used weaves for cotton sheets are flannel, oxford, percale, and sateen. Different materials have varying properties:

Sheet Materials:

Flannel sheets: Flannel is popular for cold climates or during winter because the napped finish provides warmth.

Cotton-polyester blend: The polyester helps the fabric resist wrinkles, but they can be stiffer than all-cotton sheets. Cotton-polyester blend luxury sheets with higher thread counts will retain the wrinkle-free properties with a softer texture.

Oxford cloth: Similar to oxford dress shirt fabric, this cotton cloth makes a soft but heavy luxury sheet.

Silk sheets: Luxury silk sheets with a satin weave are ideal for cold climates because the material traps warm air. These sheets feel smooth and soft. Satin-style sheets made of polyester can feel scratchy against sensitive skin.

Egyptian cotton: This cotton has longer and stronger fibers than other varieties, making the material simultaneously soft and durable.

Supima cotton: This is a long-fiber cotton that becomes softer and even more sumptuous with each washing.

Bamboo: Bamboo sheets are very smooth, have a natural sheen to the surface, and have a similar feel to silk or cashmere.

Why is Egyptian cotton so highly sought after?
Luxury bedding with a higher thread count requires thinner thread; thicker threads cannot be woven into high thread count material. Egyptian cotton forms a thin thread that works very well in fabric with higher thread counts. Due to the long fibers in Egyptian cotton, luxury sheets made with this material tend to break in and wear much better. They last considerably longer than other sheets, and the fabric surface tends to become smoother the more the sheets are washed and used.
What Do You Want to Do Next?

Shop for Egyptian Cotton Sheets
Shop for Sateen Cotton Sheets
See All Sheets
See All Guides
Read More Bedding Guides
Learn More about Sheets