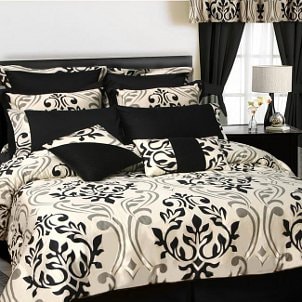 The easiest way to stylishly outfit your bed is with a luxury bedding ensemble. These all-inclusive bedding sets make it easy to transform the look of your bedroom without purchasing each piece individually. Before you start shopping, you may want to get the basics about luxury bed-in-a-bag sets, so keep reading to get the answers to frequently asked questions about luxury bedding ensembles.
Luxury Bedding Ensembles:

What is the difference between bedding ensembles and comforter sets?
Before shopping for luxury bedding collections, it's imperative to understand the difference between various bed sets. Bedding ensembles are synonymous with bed-in-a-bag sets and typically include a sheet set, duvet or comforter, accent pillows, pillow shams and a bed skirt. Comforter sets are more pared down and include a comforter and pillow shams, unless otherwise specified.

How do I know if a bed set is a luxury bedding ensemble?
The key to finding a luxury bed-in-a-bag set is to look at the thread count and fabric. Anything over 400 thread count will be thick and durable, while duvets and sheets made from Egyptian cotton are typically the most sought after. Another trick is to look for designer bedding ensembles. These high-fashion sets will add a touch of glamour to your bedroom with luxurious prints and fabrics.

Who are luxury bedding ensembles best suited for?
Luxury bedding ensembles are perfect for people who want a pulled together bedroom but don't have the time or design knowledge to pick out each individual piece. Bedding sets make it easy to redecorate and achieve a cohesive look for your haven. Luxury bedding sets are even a good option for dorm rooms. Help your student feel more comfortable away from home by sending her off with a soft and cozy luxury bedding ensemble.

What kind of styles do luxury bedding ensembles come in?
Luxury bedding ensembles come in almost every style, so whether you're going for a shabby chic look with quilts and pastel colors or want something more modern with bold shapes and colors, you're sure to find it. Luxury bedding sets are also available in any bedding size, from twin to California king, to fit each bed in your home.

Buy Bed-in-a-Bag Sets
Back to Guides Directory