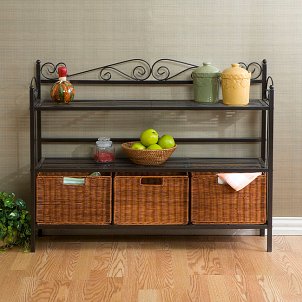 While cupboards, cabinets and pantries are used to store food, it's often hard to find storage in your kitchen for extra items, such as wine bottles and electronic food processors. Rather than stuffing your kitchen cupboards to the point of bursting, use extra kitchen shelves to store or display extra items. When you begin looking for kitchen shelves, consider space, function and material. Look below to find answers to some of the most frequently asked questions about kitchen shelves.
Questions about Kitchen Shelves:

Should I choose standing or wall-mounted shelves?
Two factors go into choosing wall-mounted versus freestanding kitchen shelves. First, evaluate your space. Those with small kitchens without a lot of floor space should choose a wall-mounted shelf system, while those with more space can purchase shelves that stand up on their own. However, wall-mounted shelving is usually smaller and doesn't hold as many items, so if you need a lot of storage and you can fit it in, a stand-alone shelving unit is best.

What material works best for kitchen shelves?
You have the choice of metal, wood or plastic for your kitchen shelving. While plastic is the least expensive, it often looks cheap and hinders the overall design of the room. Wood looks best in casual and rustic homes. Choose shelves made of teak or oak for greater durability. Metal shelving is appropriate for kitchens with modern designs. Metal kitchen shelves can also withstand heavier weight.

Are there different kitchen shelves for different purposes?
Which shelving unit you choose depends on what you want to use it for. Wine bottles are best stored on their side on kitchen shelves with designated wine racks. Wrought iron baker's racks provide metal shelves for cooling recently baked goods such as pies and cakes. There are also general kitchen shelves that work for storing food and objects of varying sizes and types. Consider what you're going to use the shelves for before purchasing storage for your kitchen.

Which shelves work best in small kitchens?
Corner kitchen shelves are a great way to utilize free-standing shelving while saving space in a small kitchen. They fit in the corner of rooms and can even be placed in dining rooms to display plates and other knick-knacks. Consider wall-mounted shelves as they take up less space. While a countertop shelf system may be tempting, they often leave you with a limited amount of counter space.

Buy Kitchen Shelves
Back to Guides Directory