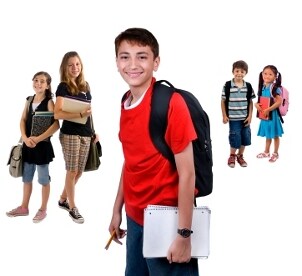 When children have a lot of stuff to carry, whether that stuff is schoolbooks or toys, a kids' backpack can help them keep things organized and accessible. Because backpacks help distribute weight evenly across your child's shoulders, kids' backpacks allow even a small child to safely carry more than she could with a messenger bag, tote bag or suitcase.
Frequently Asked Questions:

How can my child use a backpack other than for school?
Backpacks are great for overnight sleepovers. The main compartment is the perfect size for a day's worth of clothing, and the outer compartments easily hold personal toiletries. Children's backpacks are also excellent travel bags. Your child can store books, video games, snacks and toys for quick access while in the car or on an airplane.

What features are important for organization?
Look for kids' backpacks with at least one area for large items, as well as several outer pockets to store smaller items such as pencils, art supplies, lunch money and keys. Many school backpacks feature specially designed spots to hold a laptop or folders, pair of sneakers or an MP3 player, and these options can help keep your child organized.

Are rolling backpacks helpful for kids with heavy loads?
While rolling backpacks are useful when your child's haul exceeds safe limits, keep in mind that they can be tricky to maneuver up stairs and on uneven surfaces. The rolling mechanism also adds extra weight that makes it awkward to carry in the traditional way (on your child's back).

What dimensions should I look for in a backpack?
Select a children's backpack that is large enough to hold school folders and papers but sized to fit your child without being overwhelming. Kids' backpacks should fit below your child's neck and above his legs. Standard backpacks are at least 15 inches high by 12 inches wide, and the depth varies depending on the storage compartments and features. Be aware that some preschool and toddler backpacks are not large enough to hold a standard sheet of paper without folding it.

What materials are the most durable?
Canvas, leather and suede are extremely durable and will last for years without tearing. Look for heavy-duty zippers and reinforced stitching when selecting a bag. Although school backpacks are usually water-resistant and will protect items from light rain or snow, look for a label that says "waterproof" if that feature is important to you. Follow the care instructions from the manufacturer to extend the bag's life.

How heavy is too heavy?
Doctors recommend that kids carry no more than 10 percent to 15 percent of their body weight in a backpack. Encourage your child to wear the backpack over both shoulders. Look for packs with padded shoulder straps.

How can I customize my child's backpack?
Most backpacks are made from materials that take embroidery well. Whether you select to add a name, initial or graphic image, embroidery helps your child's backpack stand out in the crowd. You can also add backpack charms, key chains or iron-on patches for a custom look.

Should I personalize the backpack with my child's name?
Some parents are leery of adding their child's name to a backpack for fear it will enable predators to lure a child by using her first name. One alternative is to use your child's monogram or first initial in lieu of her whole name.

Buy Kids' Backpacks
Back to Guides Directory