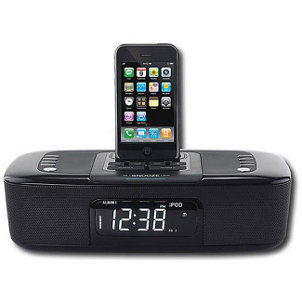 Home audio electronics have begun to include more options for using your iPod everywhere, even with a set of external speakers, and iPod docks are a great example of this, being compact and portable while putting out impressive sound quality. Some models also have amazing video and music porting abilities as well, allowing you to connect to a larger sound system or an HDTV. Here are the answers to a few frequently asked questions about iPod docks to help you choose one that you'll love to use.
Questions about iPod Docks:

Will all iPod docks work with my iPod?
A universal dock will work with all types of iPods and even other MP3 players, but a new iPod may have features and functions that make it incompatible with older docking stations. Check the specifications to be sure that your MP3 player works with a specific iPod dock. Some docking stations may not support the newest generations of iPods and MP3 players.

What extra features do docking stations have?
Besides just being a speaker dock, some models include wireless remote-control, manual controls and even auxiliary input options for connecting other audio sources. Your iPod dock may even include a separate display, showing the time or track information. Alarm clock docks are a great alternative to your old clock radio. You can wake up to your own custom playlist rather than a random song or commercial on the radio. If you're using your iPhone with the docking station, you may want to make sure its speakers are shielded to prevent interference from incoming calls or data.

Do iPod docks charge the battery as well?
Most iPod docks will charge your iPod or at least keep it powered while playing. This is a great feature, especially since you typically can't listen to tunes on your iPod when it's simply plugged in through a USB cable to most devices.

Can I connect other electronics to an iPod dock?
If your dock has a video-out jack, you can connect to a TV to display song information or photos through a connector cable. Be sure that your TV or other display has the same connection port. An HDMI port will transmit both sound and video, while an S-video or composite cable may only transmit video.

Buy iPod Docks
Back to Guides Directory