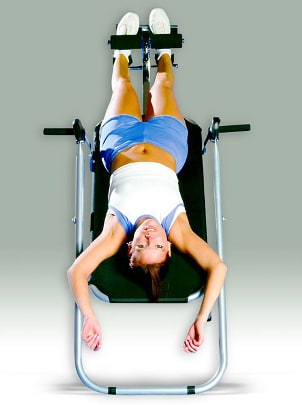 Gravity inversion has been used for centuries to help relieve headaches and back pain, improve circulation and increase flexibility. In recent years, the use of inversion tables has become very popular, but there are still lots of questions about inversion tables and how they work. Gravity inversion tables are most commonly used today by people with chronic back problems, but the benefits that inversion therapy tables provide can help everyone.
Frequently Asked Questions:

How do inversion tables work?
By allowing you to safely flip over, inversion therapy tables let gravity pull on your body in a different direction. And with your legs securely fastened, the effects of gravity stretch the joints in you spinal cord, hips and knees that usually have gravity compressing the joints.

What are the benefits of using an inversion table?
A gravity inversion table can help alleviate pain in your back, as well as in joints like your knees and hips that receive constant impact from walking, running and jumping.

What are the limits of inversion tables?
Weight limits vary for each table, but most inversion tables can hold someone over 300 pounds. However, most gravity inversion tables do have a height limit of only being able to adjust to someone who is not taller than 6 feet 6 inches.

How should I get started using an inversion table?
It is best to ease into using your gravity inversion table. Before strapping yourself into the table, read the instructions and become very familiar with how the table works. Begin inverting on your table at low angles for short periods of times. This is likely a very unfamiliar activity, and doing too much too soon could cause you to become very sore. Take your time getting comfortable being in the inverted position, and if you become uncomfortable, slowly return to upright or a smaller degree of inversion. It is also a good idea to have supervision when starting to use the table.

Are there exercises I can do while inverted?
Yes, but you shouldn't do exercises while inverted until you are comfortable being fully inverted. When you have become comfortable with inversion on your table, you can do crunches, sit-ups and torso rotation exercises. These exercises should help your posture and flexibility.
Inversion Table Tip:

Always return to an upright position slowly, giving the joints in your spine time to recompress.

Health and Beauty Disclaimer: The content on this site is not intended to substitute for the advice of a qualified physician, pharmacist, or other licensed health-care professional. The products may have additional information and instructions on or inside the packaging that you should carefully read and follow. Contact your health-care provider immediately if you suspect that you have a medical problem. The use of dietary supplements may not have been evaluated by the Food and Drug Administration and is not intended to diagnose, treat, cure, or prevent any disease or health condition.

Buy Inversion Tables
Back to Guides Directory