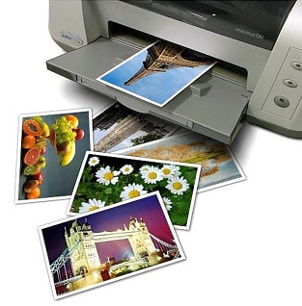 An easy way to get high-quality printing at home is with an inkjet printer. They require almost no maintenance, and changing inkjet cartridges is a simple task. There are a lot of questions surrounding ink cartridges, though. Here are some answers to frequently asked questions about ink refills and how to get the most printing for your money.
Ink Cartridge Questions:

Can I use ink cartridges not made by the printer manufacturer?
You can use third-party ink cartridges, but they must be compatible cartridges that are designed to work with your printer. You can check product descriptions for inkjet cartridges to see which printers they are compatible with.

Can I refill my own cartridges?
Some cartridges can be refilled with ink refill kits. A refilled cartridge may leak inside your printer, however. Also, some types of ink cartridges have to be electronically reset to be refilled and reused. For that you would need to buy a cartridge reset tool.

Can ink cartridges be recycled?
Yes, many ink cartridges are recycled or remanufactured every year. Some companies give out free mailers so you can return empty cartridges to them. Your community may even have charities that accept donated printer cartridges and then sell them back to the manufacturer. If you do plan to recycle, take empty inkjet cartridges from the printer, put them in a plastic bag with a small scrap of wet paper towel and take them to the nearest drop-off location.

How often will I need to refill/replace cartridges?
How often you change ink cartridges depends entirely on how much you print and the type of printer you have. For example, an ink printer cartridge might be rated at 300 pages with regular printing. The same cartridge might only have enough ink for about 30 full-page images when printing photos from digital cameras or scanners. Ink cartridge capacity, also called reservoir size, ranges from 9 ml (about 0.3 ounces) to 42 ml (about 1.4 ounces).

Will using a remanufactured or new compatible cartridge void my printer warranty?
No, the Federal Trade Commission has ruled that manufacturers (all manufacturers, not just manufacturers of inkjet printers) must honor warranties even if you use aftermarket parts.

Buy Inkjet Cartridges
Back to Guides Directory