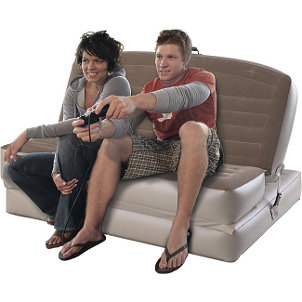 If your memory of inflatable mattresses has you cowering and dodging trips to avoid them, then it's time to revisit this innovative form of bedroom furniture. Inflatable mattresses have come a long way since the days of sagging plastic and squeaky construction. Once you have the answers to some frequently asked questions about inflatable mattresses, you'll be ready to buy one and put it to use!
Inflatable Mattress Questions:

What size inflatable mattress should I get?
Inflatable mattresses come in the same sizes as standard innerspring and foam mattresses. A twin-size air mattress is probably sufficient for a child. For visiting in-laws, consider a queen-size or even king-size air bed for maximum comfort.

What are inflatable mattresses made of?
Inflatable mattresses are most commonly made of a PVC plastic or vinyl. These air beds are waterproof -- an advantage if you plan to take one camping. Newer air mattresses sometimes feature a flocked layer on top. This layer makes the bed less slippery and a little cozier.

How do I inflate my mattress?
Air mattresses, as you've guessed from the name, are full of air. There are several methods for getting air into the mattress: Some mattresses can be filled using more than one method; others restrict you to a specific process for inflating. Smaller air beds, like those designed as pads under sleeping bags, can often be manually inflated by breathing air into the main chamber. Bigger and more advanced air mattresses require the use of a pump; look for an electric pump if you'll have electricity available; otherwise; look for a foot pump to inflate your bed in the woods or during a power outage.

Do inflatable mattresses need sheets?
Inflatable mattresses do need sheets; they're just like other beds. Buy sheets to fit the size of mattress you've selected (king, queen, etc.) and make sure to choose an extra-deep fitted sheet if you have an air mattress that sits high off the ground. Air beds with flocked tops will hold a flat sheet in place if a fitted sheet won't fit. Top the sheet with blankets or quilts, whatever you'd use on any other guest bed.
Inflatable Mattress Tip:

Purchase a patch kit if you plan to take your inflatable mattress camping. Nothing is worse than finding yourself in the woods with no place to sleep, and that can be easily avoided with a little preparation.

Buy Air Beds
Back to Guides Directory