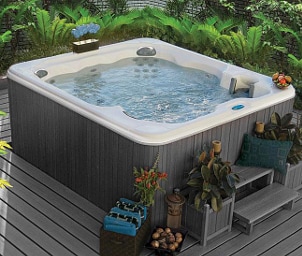 It is difficult to deny the relaxing and recuperative powers of a hot tub or spa. A soak in a hot tub is one of the best ways to release the tension from a long day at work. Hot spas also soothe sore muscles after a long run or day of yard work.
Frequently Asked Questions:

Is it true that there are health benefits to hot tubs?
The hydrotherapy jets of a hot tub can massage away all the tension from your muscles. The warm spa water helps lower your heart rate and loosen your stiff joints. Studies have shown how 15 minutes in a hot tub every evening (about 90 minutes before bedtime) can help you have deeper, more restful sleep without the side effects of other sleep aides.

What is hot tub maintenance like?
With just a little care, your home spa will last for years, bringing you relaxation and fun the whole time. Advancements in hot tub technology have made them easier than ever to maintain, and you'll want to pick up spa maintenance supplies, such as chlorine or bromine, while you are online shopping. Most portable spas have a filter that can be rinsed clean and reused many times. Be sure to get a cover for your hot tub to protect it from leaves and other debris, as well as from sun damage.

Do I need to do anything to the exterior of the hot tub?
Occasionally, you'll need to do some exterior care. If your hot tub has a wood cabinet, you'll want to keep it stained and sealed just like a deck or fence. Most hot tub cabinets are made out of some sort of synthetic material; you can usually just hose these off to keep them clean. If the cover for your hot tub is made out of vinyl, you may want to use a vinyl conditioner on it a few times a year to prevent cracking.

Are there any hazards I should be concerned about?
There are a few things to be aware of. Like any pool or tub, there is a risk of drowning. Additionally, it is not recommended that pregnant women, very young children or people with certain health conditions (such as heart disease, high blood pressure or diabetes) use hot tubs. The heat of hot tubs can lead to dizziness, but this can generally be avoided if the time spent in a hot tub is limited to 30 to 45 minutes and if alcohol is not consumed while in a hot tub. Many people are also concerned that the warm, wet environment of hot tubs creates the perfect breeding ground for bacteria, but this can be avoided by cleaning and maintaining your hot tub properly. All hot tub hazards can be avoided with common sense, including the supervision of children and conscientious cleaning.

Will shipping cost more when I buy a large item, such as a hot tub, from Overstock.com?
No, you still get our low shipping rate, no matter how large of an item -- or how many items -- you are buying. However, you will want to read our Oversized Item Delivery Policy, as there may be restrictions as to where we can deliver hot tubs.

What should I do with my hot tub during winter?
Get in. There is no better time to enjoy your hot tub than when it is cold outside. Sitting in the hot water watching the snow falling only to melt in the steam rising off your hot tub is an experience that shouldn't be avoided. Just be sure to have some flip-flops and bath sheets waiting for you when you get out.

Can I winterize my hot tub?
Yes, if you don't want to use your hot tub during the winter, you can drain and winterize your hot tub. Follow manufacturer instructions when winterizing your hot tub; but keep in mind, continuing to use your hot tub during the winter is the best way to avoid problems that can occur during the colder months.

View All Hot Tubs and Spas
Back to Guides Directory