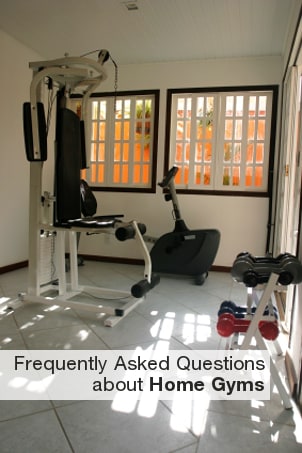 If you're just starting to build a home gym or you're starting a new fitness routine, you may have a few questions. Be sure to read our home gym buying guide, then check out these answers to the most frequently asked questions about home gyms to learn everything you need to know.
Common Home Gym Questions:

How do I create a complete workout with my home gym equipment?
Once you have your home gym set up to do a warm-up, cardio, strength training, and a cool-down, you can mix up your day-to-day workouts however you like. With strength training, you'll want to make sure you focus on your upper body, lower body, back, and core on different days and never work the same muscle group two days in a row. After all, a home gym is only as good as the work that goes into it. For more information on creating a complete workout, visit the Web site for the American Council on Exercise.

Where can I get some advice on all I can do on my home gym machines?
Fitness videos and books can give you the kind of advice that only comes from a trained professional. Choose fitness videos to help guide you through a routine on your treadmill or exercise bike. Choose fitness books that will give you tips on weight-training form as well as diets to go along with your weight training.

Is there anything that would help me with my chronic pain?
Exercise can help reduce all sorts of chronic pain because -- young or old -- the body was made to move! Be sure to check with your doctor first, and then start out with a gentle, low-impact home fitness machine, such as an elliptical trainer, to condition yourself.

What do I do about aches I get from exercising?
Working out on your new home fitness equipment may make you a bit sore. Stretching out before and after exercising is essential to help reduce achiness as well as the pain of injuries. To help reduce sore muscles, you could create a full health club experience at home by adding physical therapy tools to your home gym, such as massage equipment or even a home sauna.

Do I need to buy gym clothes if I'm working out at home?
It may be tempting to hop onto your exercise bike in the jeans you've been wearing all day, but if you aren't comfortable, you won't be as motivated to stick to your exercise plan. Fitness apparel is made to be stretchy and breathable, so you'll look forward to putting it on and working out in your home gym. A little incentive can go a long way toward reaching your fitness goals, even when it comes in the form of the perfect pair of comfortable shorts and a supportive sports bra.
What Do You Want to Do Next?

Shop Weights & Machines
Shop Exercise Bikes
Shop All Home Gym Machines
See All Guides
Read More Sports & Fitness Guides
Learn More about Exercise