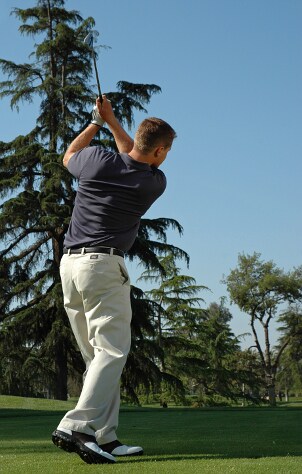 Golf gloves are designed to give you a firmer grip on the golf club. A firm grip will not only keep your club from flying into the nearest water hazard if you take a wild swing, but it will give you better control of your ball direction. A golf glove is a wise investment to improve your golf game, but before you purchase a golf glove, take the time to learn more about them.
Frequently Asked Questions:

Should I buy a golf glove for my left or right hand?
Golf gloves, unlike most other gloves, do not usually come in pairs. They are made to be worn on only one hand, although some players do wear them on both hands. Still, they are most commonly sold as a single glove. If you are right-handed, you should purchase a golf glove made for the left hand and vice versa. When you properly grip a golf club, the hand most in contact with the club is not your dominant hand.

Which type of golf glove material is best?
Most high-end golf gloves are made from 100 percent leather. This soft, supple fabric allows the player to still feel the club through the glove. Although leather is the most popular material used to make golf gloves, there are other materials used as well. Synthetic golf gloves are more durable than leather and do not shrink if they get wet. Many golf gloves are made with a combination of leather and synthetic materials such as a polyester blend.

What are the different types of golf gloves?
Budget golf gloves are made to be worn for the occasional game of weekend golf. For the serious golfer, there are other options. All-weather golf gloves, for example, are treated with chemicals that repel water in order to keep your skin dry when golfing in the rain. Winter golf gloves, sometimes called thermal gloves, have a thick layer of insulation to keep your fingers warm but still flexible. There are also golf mitts that are designed solely to keep your hands warm and are meant to be worn only between shots.

What size golf glove should I buy?
Golf gloves are not meant to be one-size-fits-all. They come in specific sizes and are made specifically for men, women or children. When shopping for a golf glove, choose the proper size. Golf gloves come in sizes ranging from small to extra large. A glove that is sized properly should fit tightly across the palm and back of the hand without bunching, and there should be no extra space in the tips of the fingers. Fortunately, most golf gloves are made out of leather that will provide some stretch for a better fit.

Buy Golf Gloves
Back to Guides Directory