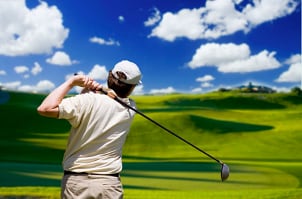 Are you looking to get the very best golf equipment? Educate yourself. Outfitting yourself with great golf equipment is easy if you know the basics. There are all kinds of golf gear available, which means there are also plenty of related questions. If you have questions about golf gear, you aren't alone. Take a look below to find answers to some of the most FAQs about Golf Equipment.
Questions about Golf Equipment:

Can I use my golf sunglasses for everyday wear?
Golf sunglasses are designed for clear, glare-free vision while playing outdoor sports. Most golf sunglasses are polarized, which can decrease visibility when driving for some people, so you may not want to use them as your all-purpose sunglasses. Polarized golf sunglasses may not be perfect for everyday wear, but you can't beat the clear vision that these golf sunglasses will give you when you are out on the golf course. They're available from a wide range of trusted brands, so it's easy to find pairs that are stylish and comfortable.

Why do many golfers use magnetic bracelets?
You may not have thought of magnetic bracelets as golf accessories, but many golfers claim the magnets help increase circulation and reduce inflammation. Although research about the abilities of magnetic bracelets is inconclusive, golfers who wear magnetic bracelets believe that they improve their games. If a game of golf makes you sore, you may want to try this alternative healing method. It may just score a "hole-in-one" for your health!

What makes golf umbrellas different from other umbrellas?
Golf is always played outside, and it is often played even when the weather changes from sunny to rainy. A golf umbrella lets you finish the back nine even when the rain is coming down. Golf umbrellas are usually larger than regular umbrellas, and some even feature vented canopies to allow the wind to pass through without inverting your umbrella. You may have also seen people carrying golf umbrellas while watching golf tournaments; these are often promotional items and have logos printed on them. Make sure you have an umbrella on hand whenever you hit the course just in case of unexpected weather difficulties.

Buy Golf Equipment
Back to Guides Directory